Did You Know?
Plug loads can average approximately 30% of electricity use in office settings, much of which can be attributed to parasitic loads (power draw of a plug-load that is not performing useful work). Source: Office Plug Load Field Monitoring Report

; Moorefield, L., et al. (2008). Portland, OR, Ecos: 74. Reduce your plug load costs with SFTool
Case Study
Spatial Equity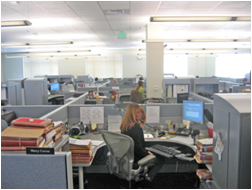 Organizations today are less hierarchical and work is more team based, more mobile, and more cross functional. A key to spatial equity is that space layout and workstation standards are based on new ways of working and specific work tasks and business needs rather than organizational hierarchy.