What is Sustainability
Sustainability is best thought of as a process, rather than an end state. Sustainability means to create and maintain conditions that balance the economic, social, and environmental requirements of present and future generations. In order to achieve such conditions, new ways of designing, constructing and operating buildings and facilities must be identified.
Related Topics
Benchmarking
To benchmark a building is to measure and rate the performance of a particular building compared to a standard. Various building performance indicators can be used for benchmarking (e.g. energy, water, air quality, thermal comfort) however energy use is the most commonly used and well-developed benchmarking indicator. Section 432 of the Energy Independence and Security Act of 2007 (EISA) requires that all federal metered buildings subject to energy reduction goals must be benchmarked for energy performance using the U.S. Environmental Protection Agency's Energy Star Portfolio Manager or a similar tool. See EnergyStar.gov

.
Building Performance
Building performance can be measured against various environmental and economic attributes. A key to evaluating building performance is establishing a common set of measurements to be used. Sustainable building standards often consider environmental performance in categories including, energy, water, indoor environmental quality, materials use, waste management, as well as economic performance, such as life-cycle costs.
Guiding Principles for Sustainable Federal Buildings

TechStreet.com | ASHRAE's Performance Measurement Protocols

Eco-Team
Groups of occupants/tenants and building staff who voluntarily educate fellow occupants and empower their organization to adopt sustainable practices. Identifying and implementing building-specific initiatives through occupant-run programs and regularly occurring calendar events, these teams seek to create a more environmentally friendly workplace.
Green Building
High-performance buildings exhibit environmentally responsible intent and perform in a resource efficient manner. They meet the needs of the occupants that live and work in them in a way that minimizes demand for natural resources and reduces or eliminates waste. High-performance buildings save energy, water, materials, protect the indoor environment and are designed to evolve as occupant needs change. Such buildings are generally more comfortable, healthy, durable and adaptable over time.
Institutional Change
Institutional change refers to the process of designing and implementing new ways of doing things that can persist over time. In the realm of sustainability, institutional change means finding new ways of work that are less resource intensive, while continuing enable agencies to meet their mission goals. Institutional change integrates behavior with technologies and policies, recognizing that all three need to align to make a significant and lasting difference. More information on key principles and strategies to promote institutional change can be found on the DOE-Federal Energy Management Program Institutional Change website: http://energy.gov/eere/femp/institutional-change-sustainability

Integrative Design Process
Finding solutions that meet all of these goals at once isn't always easy, so new processes are required to help achieve those goals. The integrative design process is a great way to do this. Integrative thinking looks for synergies among strategies – strategies that enhance one another. It also looks for strategies that, taken together, reduce costs. To make this process effective:
Start early —Setting sustainability goals at the outset and incorporating sustainable alternatives from the beginning means avoiding design changes and change orders down the road
Form an interdisciplinary team —Sustainability means finding new and creative solutions that cross disciplinary boundaries. Bring a diverse team together to work alongside each other in new ways to find integrated strategies for improved performance. For example, include the contractors and building operators in the design process to make sure their expertise is shared. Integrate building users and other stakeholders into the team to make sure that their needs are met.
Use charrettes -Charrettes are workshops designed to promote creativity and collaboration. They should be conducted by an experienced facilitator and should include the project team, the owner, and other stakeholders. The first charrette is typically used to generate project goals and guiding principles. Additional charrettes can be used to tackle the overall project plan or aspects of design.
Set clear goals —By making sustainability criteria explicit at the beginning of a project, teams have a clear sense of what their work is meant to achieve. These goals should be revisited throughout the project to keep things on track. Documents such as the Owner's Project Requirements can be used to memorialize project goals and provide a frame of reference for on-going evaluation.
Project Analysis —Before any design decisions are made, it is important to understand the primary goals of the project as well as how each building system helps the project meets its goals. This may require collection of data on energy or water use in an existing building, or surveys of occupants working in a space. The more that is known about the specific place and the components of the building in advance, the more effective integrative design strategies will be.
Evaluate alternatives —Sustainable design requires careful evaluation of alternatives against multiple criteria. It is not enough to determine which materials cost least up front, but also which will perform the best over time, are the healthiest, will have the greatest return on investment, are the most efficient, use resources the most wisely, etc. This process may require a simple comparison, or more advanced methods such as energy modeling.
Verify performance —As a project moves from design to implementation and operation, it is important to continue tracking performance against the project goals and to refine those goals in order to ensure that performance targets are achieved. Performance tracking can be leveraged to create continuous improvement.
Life Cycle Cost Assessment (LCCA)
Materials and resources all have environmental, social and economic impacts beyond their use in a project. Impacts occur during harvest or extraction of raw materials, manufacturing, packaging, transporting, installing, use, and end-of-life disposal, reuse, or recycling. These "cradle to cradle" impacts should be considered when purchasing materials. The formal study of this process is known as Environmental Life Cycle Assessment (LCA).
Similarly, Life Cycle Cost Assessment examines the costs and savings throughout the life cycle of a building material. For example, energy efficient equipment and appliances can be more expensive when initially purchased but will save energy (and money) throughout the life of the project. Therefore, it may make sense to invest in more efficient equipment that costs more up front but saves money and energy over time.
The Sustainable Facilities Tool allows you to compare life cycle costs for materials, as well as other environmental criteria, by following the green dots and clicking "compare materials" in Explore Sustainable Workspaces.
Also, check out information on LCA at the Whole Building Design Guide:
WBDG | Life Cycle Cost Analysis (LCCA)

Occupant Engagement
Occupant engagement involves communicating with, enabling and empowering building occupants to help meet sustainability goals for the building. This can involve providing information on actions occupants can take to improve building performance and resource efficiency, while making it easy and appealing for occupants to do so (e.g. actions that improve productivity).
Orientation
The relative position or orientation of walls, windows, shading, and other building features influences building performance. Sustainable building design should take into account how these features use or block wind, views, sun and more, to make for an efficient and comfortable building. For example, to reduce energy use a building's windows placement should take advantage of sunshine in the winter and block it during summer.
Prescriptive Compliance
Many sustainable building rating systems, standards, and codes offer a prescriptive path for complying with a requirement, as an alternative to a performance-based path. Prescriptive compliance refers to completing a procedure (e.g., installing wall insulation with an R-value of 20 or greater) that demonstrates the potential to improve the sustainability performance.
What is Sustainability
Sustainability is best thought of as a process, rather than an end state. Sustainability means to create and maintain conditions that balance the economic, social, and environmental requirements of present and future generations. In order to achieve such conditions, new ways of designing, constructing and operating buildings and facilities must be identified.
Whole Building Systems Thinking
Unlike conventional design processes, where components and disciplines are treated separately, sustainable design requires an evaluation of whole systems. When retrofitting an office, consider the space as a whole. This means thinking not only about the lighting, the flooring, the windows, the HVAC system, and the furniture as separate components, but also thinking about the relationship between each of these components and the ways that those relationships create the space, and how that fits with sustainability goals.
Check out the Whole Building Systems section in Explore for information on building systems, their relationship to one another, and the integrated design team necessary to reach sustainability goals.
For example, if a project's goal is to save energy from lighting and improve occupant comfort, it should think not only about the type of lighting fixtures needed, but also how the space will be used by the occupants, the amount of sunlight streaming through the windows at different times of year, how that light gets bounced into the space, how the light levels are controlled, and even the colors of the walls. By thinking holistically about the lighting system, rather than simply about the lighting components, a more comfortable, efficient, healthy and productive space can be created. In addition, the project "system" is nested within larger systems, such as a watershed, an air shed, a forest, a neighborhood and city, and so forth; these larger systems should also be considered.
Did You Know?
LED prices have dropped rapidly in recent years. They are now more lifecycle cost effective than fluorescents in every lighting application.
Source: U.S. Department of Energy, Sept 2017, SSL 2017 Suggested Research Topics Supplement, Technology and Market Context

Learn more about lighting on SFTool
Case Study
Health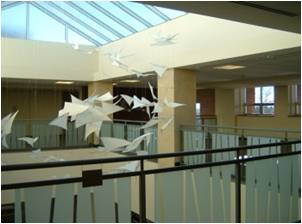 Good health has both physical and psychological components. Being healthy means the absence of disease and illness, as well as feeling positive about life and work. The workplace can play a role in the health of workers by eliminating risks and creating conditions that support cognitive, emotional, and social well-being.