About the Green Procurement Compilation
What is the GPC?
The Green Procurement Compilation (GPC) is a comprehensive green purchasing resource designed for federal contracting personnel and program managers. It helps you identify applicable green purchasing requirements by consolidating and organizing information from Federal environmental programs in one place, saving you from visiting multiple web sites. The GPC allows you to:
Quickly identify federal green purchasing requirements for the products and services you buy;
Search by keyword or browse by category to find products and services;
See procurement options available to federal buyers, including applicable GSA Multiple Award Schedules (MAS), Federal Strategic Sourcing Initiative (FSSI) solutions, and GSA Global Supply;
Learn more about Federal environmental programs, such as WaterSense and BioPreferred; and
Discover optional environmental programs and additional procurement guidance that will help you meet your sustainability goals.
Get started now and make your next purchase a sustainable one!
The GPC has a mailing list to announce major updates. To sign up, please email sftool@gsa.gov with the subject "GPC Subscribe".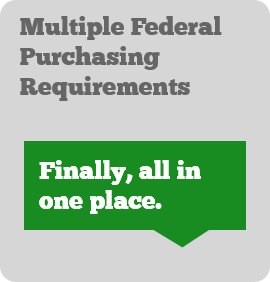 Discover Green Products
The GPC lists products for which the EPA, DOE, USDA, or other agencies have issued designations or otherwise provided guidance for products with environmental or energy attributes. In the GPC Products section, you can:
Identify applicable green purchasing requirements for any covered product;
Link to listings on SFTool Product Search of specific brands and products that align with these requirements;
Learn where to buy green products, including GSA Multiple Award Schedules, GSA Global Supply, FSSI solutions, AbilityOne, and UNICOR;
Link directly to green products available for Federal purchase in GSAAdvantage!®, GSA's online shopping portal for Multiple Award Schedule and Global Supply items;
Create customized, downloadable shopping lists for products of interest to you;
View federal legal requirements, including Federal Acquisition Regulation (FAR) requirements;
Discover life cycle cost savings information for energy-efficient products; and
Identify products that contribute to the Guiding Principles for High Performance and Sustainable Buildings.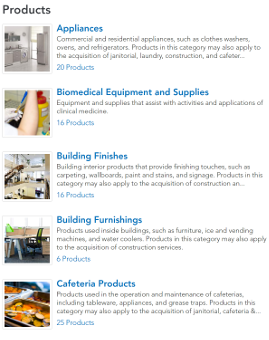 Green Your Services
It's not just about products -- the federal sustainable acquisition policy applies to services, too! Service contracts must require the use or supply of green products covered by certain federal environmental programs, when applicable. The GPC Services section addresses these requirements and offers optional green practices that you may incorporate into contracts. In addition, the Services section allows you to:
Download previous green solicitation examples, sample solicitation/contract language, and applicable green clauses and provisions to help you incorporate green requirements in your service contracts;
Download a full list of suggested green product requirements for each service; and
Explore ways to incorporate environmental criteria into your evaluation process.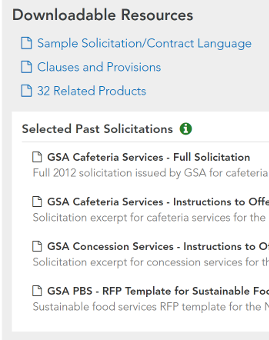 What's New?
The GPC regularly launches new features and improvements based on user feedback. Recent highlights include:
March 2018 - New Energy Star Specs for Computers and Televisions: Check out the "Additional Guidance" for Computers and Televisions for more information on the updated Energy Star Specifications. In addition, Portable All-In-One Computers have been added to Computers as a new product type.
January 2018 - Updated Energy Star Specs - Check it out!:

The GPC has been updated to reflect Energy Star version 2.0 specifications for Uninterruptible Power Supplies and Commercial Water Heaters. Find new information under Additional Guidance and Life Cycle Cost Savings.

September 2017 - Vendor Resources on Selling to the Federal Government: These resources can also be found by clicking View All Links on the GPC Homepage second scrolling banner titled Other Useful Links.
June 2017 - New Green Selected Past Solicitations Posted: New green solicitation excerpts have been posted to the GPC for Fleet and Landscaping services. Check it out!
May 2017 - New Shipping, Packaging & Packing Supplies Product Category: The new category includes shipping, packaging, and packing materials used to transport an item from one place to another such as paperboard and packaging products, industrial drums, packing and insulating materials, and pallets.
April 2017 - New Energy Star Specification for Furnaces V4.1:

As of April 21, 2017, Energy Star specification for Furnaces version 4.1 has been finalized. Furnace models previously certified to Version 4.0 are not affected by this change. Version 4.1 removes the furnace fan efficiency ("e") requirement and replaces it with the requirement that all ENERGY STAR furnaces must be equipped with an electronically commutated fan motor (ECM), encompassing both constant torque and constant airflow designs.

February 2017 - Now on the GPC: EPA's FY17 Recommendations: The GPC has been updated with the FY17 EPA Recommendations for Non-Federal Specifications, Standards and Ecolabels. Updates were made to the following products: Carpet (Nylon), Adhesives, Commercial Dishwashing Detergent, Acoustical Ceiling Tiles, Structural Fiberboard, Composite Panels (product type: Structural Wall Panels), Wallboard/Gypsum Board/Drywall, Laminated Paperboard, Floor Coverings, Floor Tiles (product type: Plastic), Floor Tiles (product type: Rubber), Building Insulation (all types), Paint (product type - Interior Paints and Coatings – Latex), Reprocessed Latex Paint Dark Colors, Reprocessed Latex Paint White, and Furniture. Click here to view the full list of EPA's Recommendations.
January 2017 - Updated FY17 DOE Priority Product List : The FY17 GreenBuy Program Priority Product List has been released and posted under the DOE Priority Products tab. Note that two new products have been added to the list, Urinals and Pesticide.
November 2016 - Updated - FEMP Contracting for Efficiency Best Practices Guide: The October 2016 version of the FEMP Contracting for Efficiency: A Best Practices Guide for Energy-Efficient Product Procurement has been posted on the GPC Other Useful links page. This document is an in-depth, step-by-step guide for incorporating efficiency requirements into solicitations. It covers a wide range of service and product solicitation types including information technology (IT) and electronics, appliances, lighting replacements, building renovation, design/build, operations and maintenance, food services, and laundry services. Each project type includes information on relevant covered product categories, a checklist for writing effective solicitations, and model contract language.
September 2016 - FEMP and Safer Choice Updates: FEMP recently updated guidance for several types of water heaters, boilers, and light commercial heating and cooling equipment. In addition, EPA's Safer Choice Program identified products missing from the GPC. (The Safer Choice label assists buyers to identify products with safer chemical ingredients.) The GPC has been updated to reflect the FEMP and Safer Choice products.
January 2016 - Other Useful Links: Accessible via the scrolling banner on the GPC home page, a new "Other Useful GPC Links" page offers additional resources of interest to the federal sustainable acquisition community. This includes links to sustainable acquisition training, organizations, procurement policies and guidance, and information for vendors interested in doing business with the government.
October 2015 - EPA Interim Recommendations: The GPC has been updated to include EPA's interim recommendations on specifications, standards, and ecolabels to use in identifying and procuring environmentally preferable products and services. These recommendations cover a variety of products, including electronics, furniture, and custodial products.
September 2015 - FY16 DOE Priority Products List: The FY16 GreenBuy Program Priority Products List has been released and posted under the DOE Priority Products tab. Note that the award program is now open to all federal agency organizations.
March 2015 - E.O. 13693 Updates: Executive Order 13693, Planning for Federal Sustainability in the Next Decade, was signed by President Obama on March 19, 2015. It updates the federal sustainable acquisition policy and revokes E.O.s 13423 and 13514. GPC references have been updated accordingly. In addition, WaterSense and Safer Choice (formerly Design for the Environment) are now marked as "mandatory" programs in accordance with the new E.O.
December 2014 - Sample Contract Language for green products: Buying green products just got easier! In the Procurement Info section for many products, you'll find a new icon to the right of many environmental programs that direct you to sample contract/solicitation language to help you require green products. Sample language is provided for the Energy Star, FEMP, WaterSense, EPEAT, BioPreferred, Safer Choice, and CPG programs.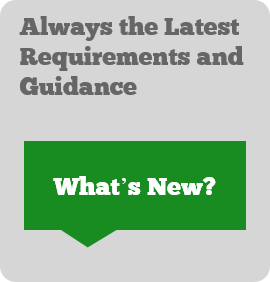 ---
A link or mention anywhere on SFTool is not an endorsement of the views, products, or services provided by the linked resource.