About the Green Procurement Compilation
What is the GPC?
The Green Procurement Compilation (GPC) is a comprehensive green purchasing resource designed for federal contracting personnel and program managers, as well as vendors working with federal agencies. It helps you identify applicable green purchasing requirements by consolidating and organizing information from Federal environmental programs in one place, saving you from visiting multiple web sites. The GPC allows you to:
Quickly identify federal green purchasing requirements for the products and services you buy;
Search by keyword or browse by category to find products and services;
Explore tools and resources for buyers;
Explore tools and resources for vendors;
See procurement options available to federal buyers, including applicable GSA Multiple Award Schedules (MAS), GSA Federal Acquisition Service (FAS) Best-in-Class Designated Solutions, and GSA Global Supply;
Explore the Acquisition Life Cycle Tools that can assist you during each phase of the procurement life cycle.
Learn more about Federal environmental programs, such as WaterSense and BioPreferred; and
Discover optional environmental programs and additional procurement guidance that will help you meet your sustainability goals.
GPC Overview and Screenshots - Coming Soon!
Video Introduction (YouTube)

Get started now and make your next purchase a sustainable one!
The GPC has a mailing list to announce major updates. To sign up, please email sftool@gsa.gov with the subject "GPC Subscribe".
Discover Green Products
The GPC lists products for which the EPA, DOE, USDA, or other agencies have issued designations or otherwise provided guidance for products with environmentally preferable or energy-saving attributes. In the GPC Products section, you can: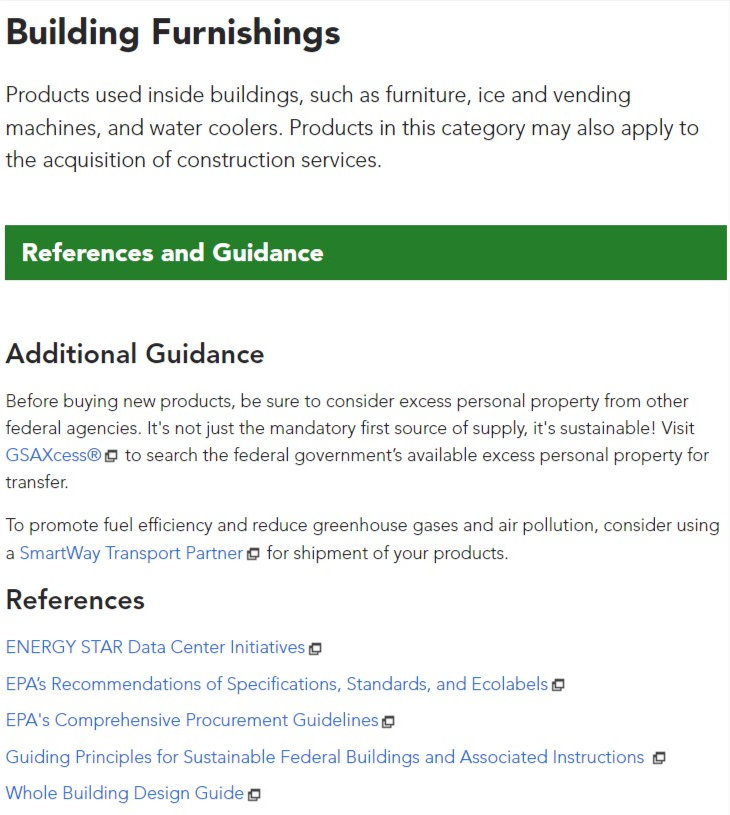 Green Your Services
It's not just about products -- the federal sustainable acquisition policy applies to services, too! Service contracts must require the use or supply of green products covered by certain federal environmental programs, when applicable. The GPC Services section addresses these requirements and offers optional green practices that you may incorporate into contracts. In addition, the Services section allows you to:
Download previous green solicitation examples, sample solicitation/contract language, and applicable green clauses and provisions to help you incorporate green requirements in your service contracts;
Download a full list of suggested green product requirements for each service; and
Explore ways to incorporate environmental criteria into your evaluation process.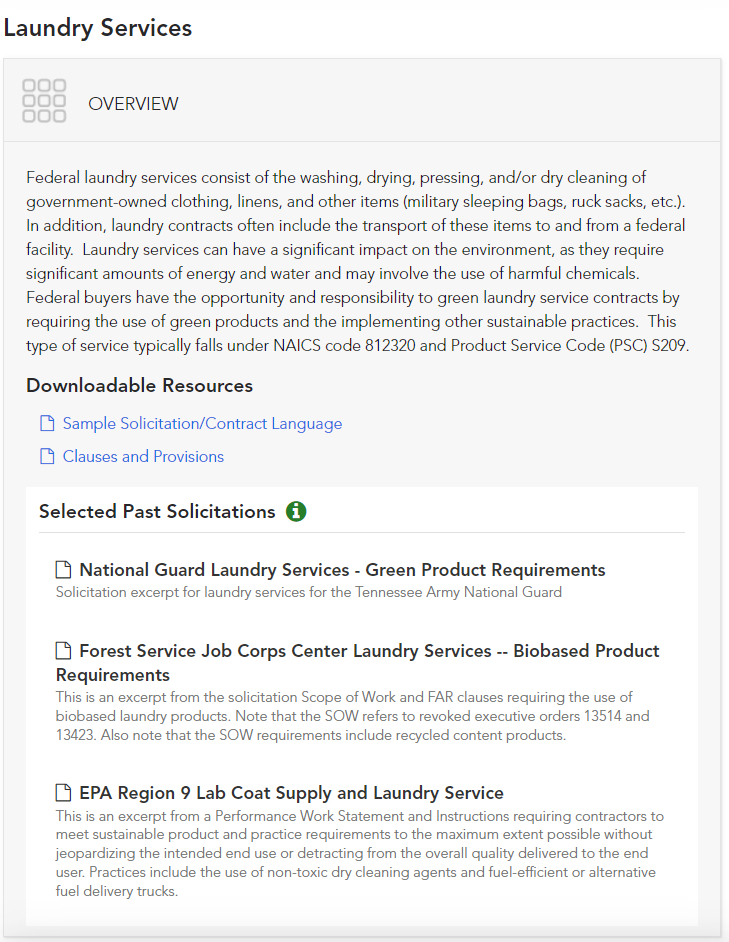 ---
A link or mention anywhere on SFTool is not an endorsement of the views, products, or services provided by the linked resource.