Materials & Resources
In the construction and day-to-day operations of buildings, many materials and resources are used and a great deal of waste is generated. The materials selected for use in a facility and the way they are disposed of impact the environment. Building managers and operators should follow protocols that encourage the selection of sustainably produced and transported products and materials. They should also be vigilant about reducing waste, re-using items, and recycling materials at the end of their useful life. Carefully selecting and disposing of materials is an important part of a building's environmental, health, and social responsibility.
Click below to explore SFTool's virtual facility tour on how to reduce waste: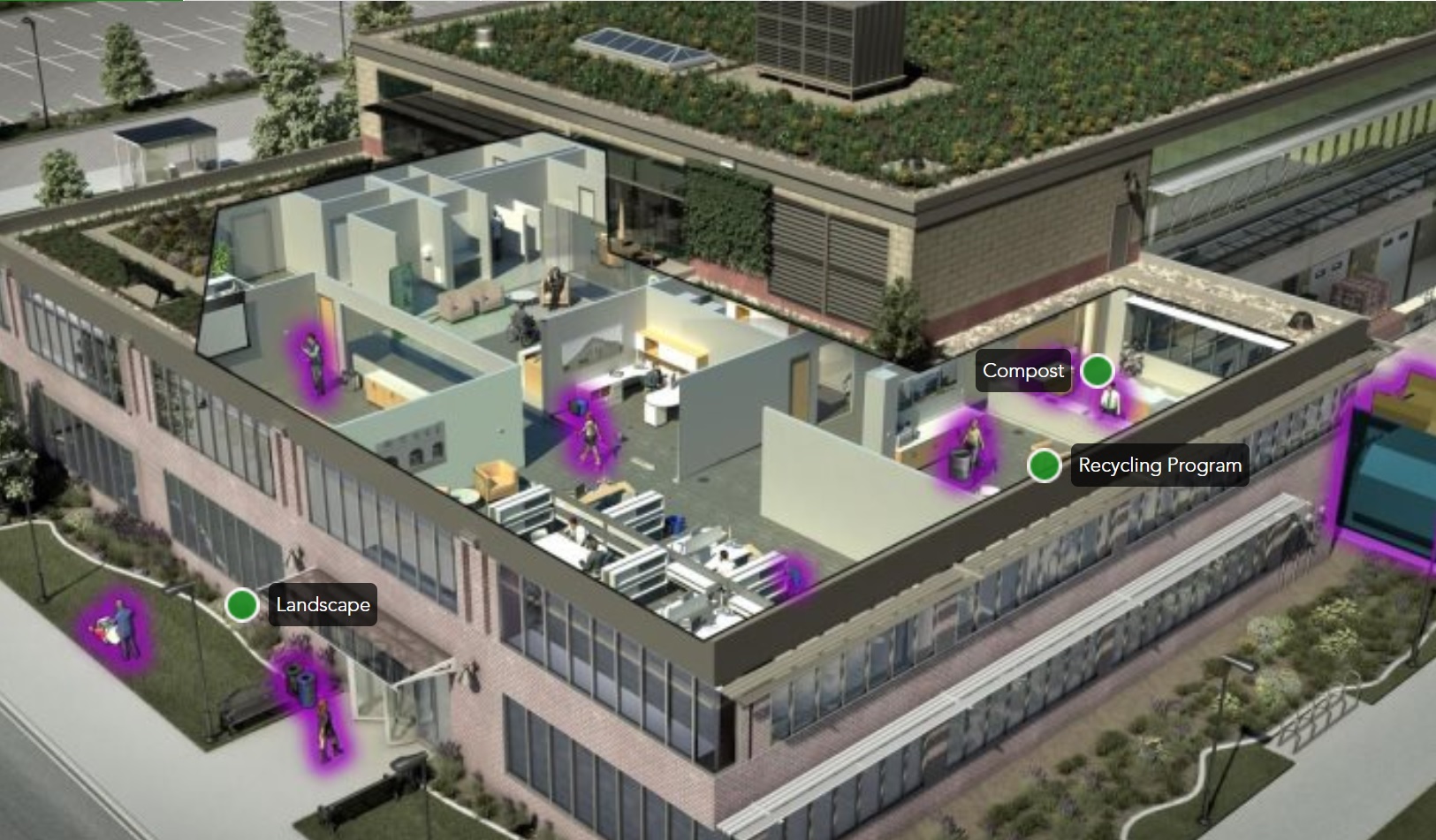 Related Topics
Adaptive Reuse
Adaptive reuse refers to buildings that are repurposed for a use that is different than the original builders intended. These projects have lower embodied energy than new construction and help preserve existing, architecturally-relevant and historic buildings.
Biobased Content
A product or material derived from plants or other renewable agricultural, marine, and forestry materials. Biobased products generally provide an alternative to conventional petroleum derived products and include a diverse range of offerings such as lubricants, detergents, inks, fertilizers, and bioplastics. Biobased materials can also capture carbon as part of their life cycle. Using them in buildings will store the carbon in place, preventing it from returning to the atmosphere for the life of the building. This potential is maximized by the use of rapidly renewable resources or agricultural waste streams. See the U.S. Department of Agriculture (USDA) BioPreferred

program for more information.
Read up on bioenergy basics

from the Department of Energy's Office of Energy Efficiency and Renewable Energy. Click the link below for more information on bio-based products and their selection.
WBDG.org | Sustainable Design Objectives

CarbonNeutralCities.org | Embodied Carbon and Bio-based Materials Factsheets

Certified Wood
Certified wood is a timber product approved by a recognized third party certifying organization as being obtained from a responsibly managed forest anywhere in the world. For example, the Forest Stewardship Council (FSC), a leading forest certification system, provides internationally recognized standards and accreditation services

to companies, organizations, and communities interested in responsible forestry.
Whole Building Design Guide | Evaluating and Selecting Green Products

Compact Fluorescent Lamps (CFLs)
Compact Fluorescent Lamps (CFLs) use less energy than incandescent lamps (light bulbs) and have a longer life span; however, CFLs contain mercury, a highly toxic substance that can have negative environmental impacts. Develop a lamp purchasing plan that will maximize lamp efficiency while maintaining low mercury content. Help reduce the amount of toxic materials entering the facility's waste stream by recycling all mercury containing lamps.
Consider light emitting diodes (LEDs) as a cost-effective alternative to CFLs.
EPA | Compact Fluorescent Light Bulbs (CFLs)

LampRecycle.org

Composting
Composting is the process of decomposing organic waste such as paper plates, food waste, and yard trimmings. By composting, less waste is sent to the landfill. Soil with compost improves plant growth with less water; compost can also be used for erosion control.
EPA | Composting at Home

Construction and Demolition Waste
Unlike operational waste, which is made after a building is built, construction waste refers to materials and debris generated during construction, renovation, demolition, or dismantling of structures, buildings and associated infrastructure. Material types in operational and construction waste differ from operational waste, so reduction and diversion strategies also differ. See Whole Building Design Guide | Construction Waste Management

.
Durable Goods
Durable goods have a long useful life (typically two years or more), are replaced infrequently, and typically have a high cost per unit. This is in contrast to ongoing consumables which have a relative low-cost per unit and are replaced frequently. Examples of durable goods include furniture, printers, computers, refrigerators and televisions. Greenhouse gas emissions can be reduced by properly disposing of durable goods at the end of their useful life through re-use programs or recycling. Donate used furniture or electronics to a local program or charity, or find a certified vendor who will responsibly recycle the materials.
Whole Building Design Guide | Life-Cycle Cost Analysis (LCCA)

Whole Building Design Guide | Evaluating and Selecting Green Products

EPA | Reduce, Reuse, Recycle

Embodied Energy
A measure of the energy used to harvest, manufacture, process, bring to market, and dispose of a product. In Life Cycle Analysis (LCA) of building materials, embodied energy helps identify the true energy cost of an item. This accounting method attempts to quantify the fossil fuels, nuclear energy, and other forms of energy that are involved over the material's life.
ENERGY STAR
ENERGY STAR is a joint program of the U.S. Environmental Protection Agency and the U.S. Department of Energy that helps businesses and individuals save energy and fight climate change through energy efficient products, homes, and buildings. Products with an ENERGY STAR label are independently certified to have met the energy efficiency requirements set forth in ENERGY STAR. Over 70 different product categories have ENERGY STAR certified products including various building products, electronics, office equipment, lighting and fans, appliances, water heaters, battery chargers, and heating and cooling products. For buildings, the EPA provides ENERGY STAR Portfolio Manager®, an online tool to measure and track energy and water consumption, as well as greenhouse gas emissions. The EPA also offers ENERGY STAR certification for top performing commercial buildings and industrial plants. To be eligible for ENERGY STAR certification, a building must earn an ENERGY STAR score of 75 or higher, indicating that it performs better than at least 75 percent of similar buildings nationwide.
http://www.energystar.gov/

Environmentally Preferable Products (EPP) and Services
These products and services are less harmful to the environment than their standard counterparts. See: EPA | About the Environmentally Preferable Purchasing Program

Federal Facility Criteria
The Whole Building Design Guide's Federal Facility Criteria (formerly Construction Criteria Base) is an extensive electronic library of construction guide specifications, manuals, standards and many other essential criteria documents. Published and updated continuously, it contains the complete unabridged, approved, current electronic equivalents of over 10,000 documents direct from participating federal agencies. WBDG's Federal Facility Criteria is the most effective tool available for finding and using current, approved U.S. construction criteria.
Whole Building Design Guide | Federal Facility Critieria

Green Seal
Green Seal is an independent, nonprofit organization which certifies and develops standards for products. Paints, adhesives, sealers, hand cleaners, cleaning products, and floor finishes are examples of products that Green Seal evaluates on toxin release, global warming potential, and potential for habitat destruction.
http://www.greenseal.org

Guiding Principles for Sustainable Federal Buildings
The Guiding Principles for Sustainable Federal Buildings and Associated Instructions are a set of sustainable principles for integrated design, energy performance, water conservation, indoor environmental quality, materials, and resilience aimed at helping Federal agencies and organizations:
Reduce the total ownership cost of facilities
Improve energy efficiency and water conservation
Provide safe, healthy, and productive built environments
Promote sustainable environmental stewardship
Guiding Principles for Sustainable Federal Buildings and Associated Instructions
Invasive Species Wood
Traditional species of trees, such as mahogany, oak, and maple, can come from old-growth trees which can take over one hundred years to mature. There is a trend in green buildings to use lumber from faster growing trees and trees which have traditionally been considered "weeds". New technologies make it easier to harvest this wood and use it in place of slower-growing lumber. Some examples of "weed" species are Tree of Heaven and Rosewood.
Janka Hardness Test
The Janka hardness test

measures the hardness

of wood, which is a useful indicator of how resistant the wood is to wear and tear. The results of this test are published in a chart called the Janka Hardness Scale, which can be used select the most suitable wood for flooring and furniture products.
Low VOC
VOCs (volatile organic compounds) are toxins found within products (paints, adhesives, cleaners, carpets, particle board, etc) and that are released into a space's indoor air, thus harming its quality. Low VOC products are those that meet or exceed various standards for low-emitting materials. Low-emitting standards include Green Seal, SCAQMD, CRI Green Label Plus, Floor Score, etc.
Whole Building Design Guide | Evaluating and Selecting Green Products

GreenSeal.org

Carpet-rug.org

California South Coast Air Quality Management District

Low-Emitting
Materials used in buildings often contain compounds that have a negative effect on indoor air quality (IAQ) and the earth's atmosphere. These compounds can be present in adhesives, sealants, paints, flooring, carpets, composite wood and agrifiber products, furnishings, and in ceiling and wall systems. Low-emitting materials release only small amounts of these compounds into the surrounding air over time. Strategies for selecting low-emitting options include ensuring material compliance with the ANSI/BIFMA X7.1 standard for furniture emissions. Non-profit certification programs that verify conformance with the standard including but not limited to SCS Indoor Advantage

, Certified Green, Greenguard, and any other program that uses the open ANSI standard.
BIFMA.org | BIFMA Standards Overview

South Coast Air Quality Management District | Rule 1168: Adhesive and Sealant Applications

GreenSeal.org | Green Seal Standards - Construction Materials & Building Equipment

The Carpet and Rug Institute

Materials & Resources
In the construction and day-to-day operations of buildings, many materials and resources are used and a great deal of waste is generated. The materials selected for use in a facility and the way they are disposed of impact the environment.
Learn more about Materials & Resources.
Non-toxic
Non-toxic implies that a product, substance, or chemical will not cause adverse health effects, either immediately or over the long-term.
Ongoing Consumables
Ongoing consumables are items which have a relative low-cost per unit and are replaced frequently throughout the course of business. This includes items such as pens, pencils, paper, as well as toner cartridges and batteries.
EPA | Sustainable Marketplace: Greener Products and Services

EPA | Comprehensive Procurement Guideline (CPG) Program

Ozone-depleting Compound (ODC)
Once released into the atmosphere, ODCs reduce the ozone layer's ability to filter out harmful radiation. Chlorofluorocarbons (CFCs), hydrochlorofluorocarbons (HCFCs) and halons are examples of ODCs. The 1990 Clean Air Act Amendments phase out production of these chemicals. A list of ODCs can be found at EPA | Ozone Layer Protection

.
Post-Consumer
Post-consumer content is an end product that has completed its life cycle as a consumer item and rather than being sent to the landfill, it is diverted by reusing the material in a new product. Examples of items that may include post-consumer content are office paper, cardboard, aluminum cans, plastics and metals. By recycling materials that have served their intended use, new products can be made. For example, a plastic bottle can become carpet backing by placing it in a recycling bin. It's just as important to purchase materials that contain recycled content as it is to recycle.
Whole Building Design Guide | Evaluating and Selecting Green Products

EPA | Recycling Basics

Pre-Consumer
Pre-consumer materials are generated by manufacturers and processors, and may consist of scrap, trimmings and other by-products that were never used in the consumer market. Examples of pre-consumer materials are sawdust, planer shavings, walnut shells, trimmed materials, damaged or obsolete products, and production over-runs.
Whole Building Design Guide | Evaluating and Selecting Green Products

Rapidly Renewable
Rapidly renewable materials are agricultural products (fiber or animal) that are quickly grown or raised in 10 years or less, and can be harvested in a sustainable fashion. Examples include: bamboo, straw, cork, true linoleum products, wool, wheatboard, and strawboard.
Reclaimed Lumber
Reclaimed lumber is wood collected from sources in the built environment rather than from fresh cut timber. This can include barn wood, old factory wood, and wood from boxcars or wine barrels. There are many advantages to using reclaimed wood, but one is the availability of exotic species that may no longer be available on the market. Additionally, reclaimed wood is often weathered and may be more aesthetically pleasing than conventional lumber.
https://us.fsc.org/

Recycled Content
Products containing recycled content are made from materials that would otherwise be discarded. Recycled content material reduces the need for virgin materials. There are two types of recycled content: post-consumer and pre-consumer (also called post-industrial).
EPA | Recycling Basics

Whole Building Design Guide | Evaluating and Selecting Green Products

Recycling
Recycling is the process of collecting and processing materials (that would otherwise be thrown away as trash) and remanufacturing them into new products. Recycling support stations and the education of occupants and janitorial staff are the backbone of a successful waste diversion plan. Start by confirming with the recycling hauler and compost service what materials are acceptable and the proper collection method. Separate, color-coded, well-labeled and strategically placed recycling containers and waste receptacles make sorting and collection convenient and support occupant participation.
EPA | Recycling Basics

Regionally Sourced/Harvested/Extracted
Most materials, goods and products travel a far distance via ship, train or truck before arriving at their final destination. The impacts associated with transporting those goods and products can be significant – added traffic congestion, increased greenhouse gas emissions, and worsening of air pollution. By selecting products that are locally sourced, the impacts of transportation are minimized. Additionally, choosing local or regional materials supports the local economy.
Responsibly Managed Forests
Responsibly managed forests are maintained to preserve the health and diversity of the forest while meeting society's demand for forest products. Responsibly managed forests prohibit clear cutting, respect the rights of indigenous peoples, and maintain biodiversity, productivity and regeneration capacity. All certified wood comes from responsibly managed forests, but not all wood from responsibly managed forests is third-party certified.
Food and Agriculture Organization of the United Nations | Sustainable Forest Management


Whole Building Design Guide | Evaluating and Selecting Green Products

Retained or Re-used Building Components
When a building is remodeled or a new addition added, elements of the structure can be retained and re-used. This is a type of source reduction. Examples of retained or re-used building components are finished ceilings, finished floors, interior doors, and other goods which remain in the completed design.
Reuse (Waste)
Similar to recycling, reuse refers to finding new uses for items instead of sending them to landfills. Can furniture be reused in another department of the company? Can electronics be donated to charity? Even using an empty soda bottle to make a hummingbird feeder is a way to reuse items instead of trashing them.
http://consumersunion.org/pdf/ZeroReport.pdf

EPA | WasteWise

Solid Waste
Waste comprises all materials that flow from a building to final disposal. Examples include paper, grass trimmings, food scraps, and plastics. Responsible stewardship tries to divert as much waste as possible from the landfill. This can mean recycling paper, mulching or composting grass trimmings, and reusing large items, such as furniture.
EPA | Land, Waste, and Cleanup Topics

Source Reduction
Source reduction reduces the volume or toxicity of waste generated. Source reduction occurs before materials have been identified as "waste". For example, building management can designate reuse centers for office supplies and other reusable goods. Another example of source reduction is implementing a paper reduction campaign through double sided and electronic printing.
EPA | Reducing and Reusing Basics

Submetering
Submetering or system-level metering is used to determine the proportion of energy use within a building attributable to specific end uses or subsystems (e.g., the ventilation system of an HVAC system). This energy use information can be used to support energy management and identify opportunities for additional energy saving improvements.
See U.S. Department of Energy guidance for Federal Agencies.

Suppressed Wood
In nature, mature wooded areas periodically burn, clearing out small seedling trees, bushes, and other items in the underbrush and leaving the larger trees intact. Modern forestry prevents forest fires, which causes the forest to be denser than it would be naturally and thus a greater fire hazard. In order to remedy that, responsible modern forestry removes less healthy seedlings, brush, grass, and other items. These materials, removed for "suppression" can be processed and utilized in buildings.
https://us.fsc.org/

Sustainable Purchasing
Purchasing managers should create purchasing plans and programs that give preference to items containing recycled content, certified wood, and rapidly renewable materials, as well as items that are energy efficient, non-toxic, durable and locally manufactured, harvested and / or extracted. Further, purchasing managers should prioritize vendors who promote source reduction through reusable or minimal packaging of products.
EPA | Greener Products

Department of Energy | Federal Laws and Requirements Search

Vinyl Wall Coverings
One way to cover walls in a high-traffic area is to use vinyl wall coverings. Vinyl is a substance created from various plastics and polymers. As a wall covering, it is durable, fire-resistant, and easy to clean. It can also contain high levels of VOCs, so project managers should carefully research and weigh the options.
Virgin Materials
Virgin materials are natural resources that are extracted in their raw form that are traditionally used in industrial or manufacturing processes. Examples of virgin materials are timber, plastic resin derived from petroleum refining process, and mined/processed metals.
Waste Diversion
Waste diversion is the process of diverting waste from the landfill. Waste in landfills and incinerators create greenhouse gas emissions that contribute to climate change. Ways to increase waste diversion include recycling, reusing, and source reduction.
EPA | Learn about Waste

EPA | WasteWise

Waste Stream Audit
Waste audits quantify the types and amounts of waste produced. Information from audits can be used to identify ways to reduce waste generation and increase waste diversion.
Waste-to-Energy
Waste-to-energy processes recover heat, electricity and fuel from non-diverted and non-recyclable waste. Incineration, gasification, pyrolization, anaerobic digestion, and landfill gas recovery are examples of waste-to-energy processes. See EPA | Advancing Sustainable Materials Management

.
Wood/Lumber
The lumber used in a project should encourage environmentally responsible forest management and minimize the negative impact of a project on forests. There are many ways to select lower-impact lumber for a project, taking into account the team's needs, budget, availability of resources, and other factors. There are traditional lumber types, rapidly renewing materials (like bamboo), and species which have not traditionally been used for construction.
https://us.fsc.org/

Did You Know?
People in the U.S. spend about 90% of their time indoors.
Source: Environmental Protection Agency (1987). The Total Exposure Assessment Methodology (TEAM) Study.

Case Study
Flexible Workplace Design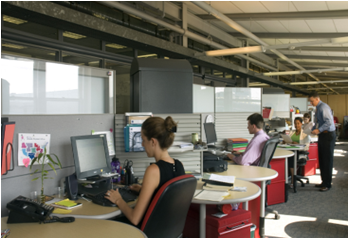 Today's workplaces are often in flux. Organizations change direction or develop new services. People move to new spaces and take on new responsibilities. Teams form and re-form. The spaces themselves are transformed to meet these new needs. These changes are much easier to accommodate, when the workplace design supports flexibility.