The Importance of Daylight
Highlights from the U.S. Department of Energy's "Energy Edge" Research
While many people prefer to be in spaces with abundant daylight, a critical question is to what extent the benefits of daylight matter to those who spend the majority of their time indoors, particularly in an office setting. In 1991, the University of Washington (UW) and the U.S. Department of Energy (DOE) explored this subject through a study of seven buildings in the Pacific Northwest. Building occupants were studied after they occupied their new workplace in these buildings. The buildings were all designed to maximize daylight as an energy efficiency strategy using controls that reduced electric light when daylight was sufficient.
The study was designed to assess occupant response to the new technologies. A total of 268 building occupants completed a survey that addressed daylight as well as electric light, thermal conditions, air quality, and acoustics. The study used a geographical information system (GIS) methodology to assess how responses were influenced by office location.
Findings on Daylight Preferences
The UW/DOE post-occupancy evaluation research revealed:

90% of the respondents said they liked having daylight in their workspace.
83% said they liked the changes in light both throughout the day and across the season.
80% said the amount of daylight was "just right", while 20% said it was "too little".

However, the GIS information revealed that building location also affected responses:

Those on the north side of the buildings were more likely to say they had too little daylight, as compared to those on the other sides of the buildings.
100% of the people in corner offices and 96% in other workspaces along the window wall rated the light as "just right".
The farther people were from a window, the lower their satisfaction with the amount of daylight.

Despite the findings, only 20% said daylight was sufficient for work. Supplemental electric light was instead needed for visual tasks. This highlighted the importance of integrating daylight and electric light to meet the psychological, aesthetic, and specific task needs of the workforce.
---
Source: DESIGN, PRODUCTIVITY AND WELL BEING: What are the Links? J. Heerwagen, Ph.D. Paper presented at: The American Institute of Architects Conference on Highly Effective Facilities Cincinnati, Ohio March 12-14, 1998
Gallery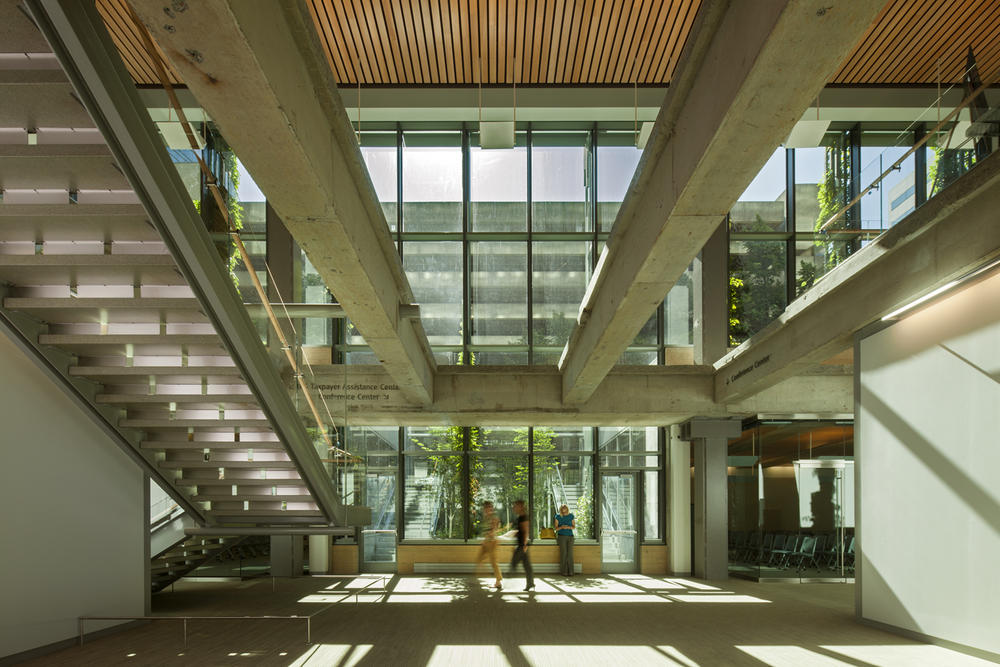 Related Topics
Circadian light
Circadian rhythms are biological processes that are generated and regulated by a biological clock located in the brain. These biological processes include body temperature, digestion, release of certain hormones, and a person's wake/sleep cycle. In the absence of external cues, circadian rhythms in humans will run with a period close to, but not exactly 24 hours (in humans, circadian rhythms cycle every 24.2 hours without exposure to light). If a person does not receive enough light, their circadian rhythms become desynchronized with the local day-night cycle.
Learn more about Circadian Light.
Daylight Sufficiency Goal
The daylight sufficiency goal specifies the amount of daylight needed to provide adequate light to perform typical tasks appropriate to each space, without additional electric lighting. It is measured in lumens or foot-candles.

Find more from GSA's Saving Energy through Lighting and Daylighting Strategies

resource.
Daylighting
Daylighting uses natural daylight as a substitute for electrical lighting. While it will likely be counterproductive to eliminate electrical lighting completely, the best proven strategy is to employ layers of light - using daylight for basic ambient light levels while providing occupants with additional lighting options to meet their needs.
An effective daylighting strategy appropriately illuminates the building space without subjecting occupants to glare or major variations in light levels, which can impact comfort and productivity.
In order to provide equitable access to daylight ensure the space is optimized to disperse daylight well. Locate private offices toward the core of the space and specify low workstation panels. Use glass walls and light-colored surfaces on walls and desks to disperse daylight throughout the space. In all daylighting strategies, it is important to consider glare and to take steps to minimize it. Find more strategies below:
GSA | Saving Energy through Lighting and Daylighting Strategies

DOE LBL | Tips for Daylighting with Windows

Healthy Buildings
Health, as defined by World Health Organization in its 1948 constitution, is "a state of complete physical, mental, and social well-being and not merely the absence of disease or infirmity". This definition of health has been expanded in recent years to include (1) resilience and the ability to cope with health problems and (2) the capacity to return to an equilibrium state after health challenges.
These three health domains - physical, psychological, and social - are not mutually exclusive but rather interact to create a sense of health that changes over time and place. The challenge for building design and operations is to identify cost-effective ways to eliminate health risks while also providing positive physical, psychological, and social supports as well as coping resources.
Learn more about Buildings and Health.
The Importance of Daylight
Did You Know?
Check out our helpful tools for everyday tasks, including understanding federal requirements, project planning, procurement, and O&M.
Explore our Tools
Case Study
The Importance of Daylight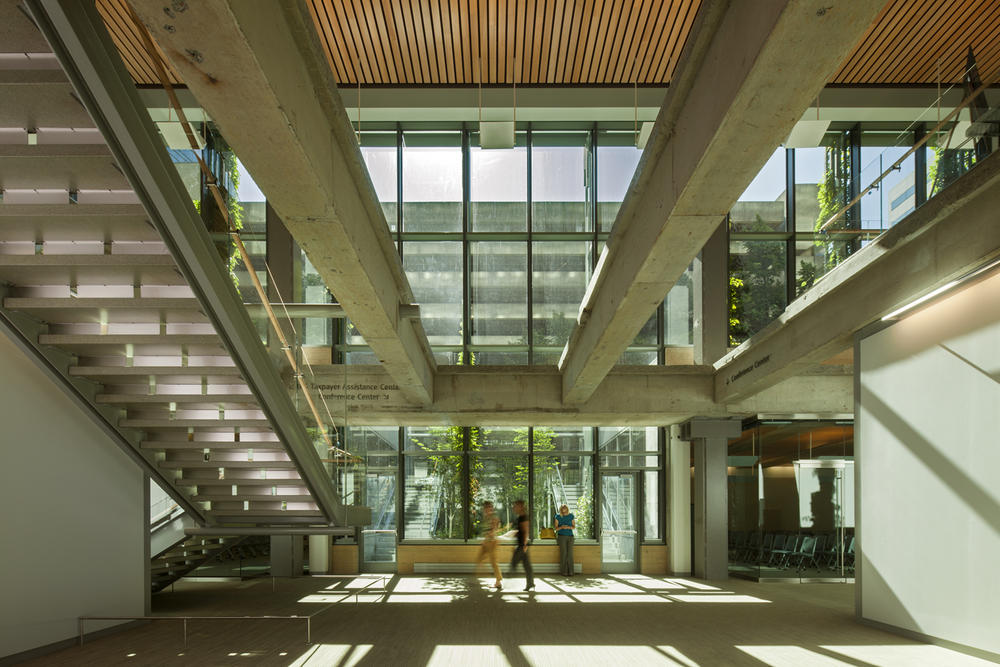 While many people prefer to be in spaces with abundant daylight, a critical question is to what extent the benefits of daylight matter to those who spend the majority of their time indoors, particularly in an office setting.