Welcome Back
Your guide to the new and improved SFTool
To improve navigation, a few of your favorite SFTool pages have moved:
Old
New

Assess

(Facilities Management Institute & FEDSAT)
Train

Agency Best Practices

(ISWG)
Apply

Share

(Case Studies)
Apply

Share

(Downloads)
Teach (available from homepage)

Share

(SFTool Newsletters)
Contact (available from footer)
New Features
Did You Know?
Between 1950 and 2000, the U.S. population nearly doubled. However, in that same period, public demand for water more than tripled. Americans now use an average of 100 gallons of water each day—enough to fill 1,600 drinking glasses. Source: EPA WaterSense

Reduce water use with SFTool
Case Study
The Workplace Environment as a Catalyst for Social Change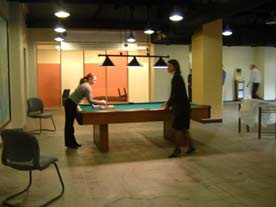 We know workplace design can influence functional behaviors, but can it be a catalyst for social change? Can organizations use the environment to improve the sense of community, increase morale, reduce stress, and develop cross group relationships?