Welcome Back
Your guide to the new and improved SFTool
To improve navigation, a few of your favorite SFTool pages have moved:
Old
New

Assess

(Facilities Management Institute & FEDSAT)
Train

Agency Best Practices

(ISWG)
Apply

Share

(Case Studies)
Apply

Share

(Downloads)
Teach (available from homepage)

Share

(SFTool Newsletters)
Contact (available from footer)
New Features
Did You Know?
Recycling a single plastic bottle can conserve enough energy to light a 60-watt bulb for up to 6 hours.
Source: Bureau of International Recycling
Case Study
Sense of Place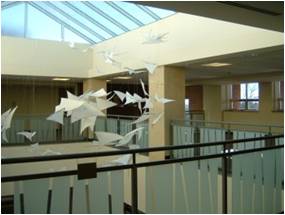 What makes a workplace special? What fosters a sense of attachment, engagement and identity? These are the kinds of questions that underlie the sense of place. The workplace is increasingly seen as a "brand" that conveys not only a place, but also the mission and values of the organization. The GSA workplace program combines branding and sense of place with sustainable approaches to create special places imbued with meaning and purpose.