Commercial Ice Makers
Last Updated: 09/30/19

Click to see brand name products that meet these requirements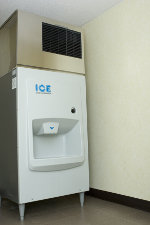 A factory-made assembly (not necessarily shipped in one package) consisting of a condensing unit and ice-making section operating as an integrated unit, with means for making and harvesting ice. It is an assembly that makes up to 4,000 lbs of ice per day, and may also include means for storing or dispensing ice, or both. This includes air-cooled and water-cooled ice makers.
Product Details
Federal agencies are required by statute to purchase products as designated or specified under this program.
Federal agencies are required to purchase sustainable products and services meeting EPA's Recommendations to the maximum extent practicable.
| Product Type | Procurement Info | Where to Buy |
| --- | --- | --- |
| Air-Cooled | | |
| Water-Cooled | | |
Legal Requirements

Lists federal requirements related to the purchase of this item, including applicable Federal Acquisition Regulation (FAR) requirements
Life Cycle Cost Savings
Life Cycle Costing (LCC) aims to quantify the financial impact of a product over its entire life cycle to assist consumers in making decisions that will save them money over the long term.
The new Energy Star version 3.0 performance requirements for automatic commercial ice makers (ACIMs) offer end users energy savings ranging from 8 – 20%, depending on size and type. This translates to about $10 – $85 per year, or $100 – $850 over their lifetime when compared to a conventional new model. If all ACIMs sold in the United States were ENERGY STAR certified, the energy cost savings would grow to nearly $325 million each year and nearly 5 billion pounds of annual greenhouse gas emissions would be prevented, equivalent to the emissions from over 460,000 vehicles.
FEMP has estimated that a qualified water-cooled ice machine can save $640 in utility costs (including both energy and water costs) over the life of the unit.
An efficient product is cost effective when the energy costs saved over the life of the product exceed the additional upfront cost (if any) of the more efficient model. Energy Star considers both upfront costs and lifetime energy cost savings when setting required efficiency levels. Federal purchasers can assume that Energy Star-qualified products are life-cycle cost effective.
To calculate life cycle cost savings, explore these tools:
On its Purchasing & Procurement page, Energy Star offers MS-Excel-based calculators to estimate how much money and energy you can save purchasing ENERGY STAR commercial ice makers.
For life cycling costing on specific brand-name products, visit SFTool Product Search by clicking the green box at the top of this page. Once you have created an account, add a product to a project and open the project. The tool displays energy cost savings, adjusting for local utility rates, operating conditions, and the purchase price.
NREL's Levelized Cost of Energy Calculator can help estimate the cost of electricity as an input for your lifecycle cost calculations, accounting for both cost escalation and discount rates.
Guiding Principles
Contributes to meeting The Guiding Principles for Sustainable Federal Buildings
Additional Guidance
The effective date for the version 3.0 Energy Star Automatic Commercial Ice Maker specification is January 28, 2018. Included in this specification are products that meet the definition of an Automatic Commercial Ice Maker as specified by Energy Star that are air-cooled batch or continuous type, and of IMH, RCU, or SCU design. Air-cooled RCUs designed for connection to remote rack compressors that are alternately sold (with the same model number) with a dedicated remote condensing unit are also eligible for ENERGY STAR qualification (based on measured performance with the associated dedicated condensing unit).
The following products are excluded from the version 3.0 specification: Water-cooled ice makers, ice makers with ice and water dispensing systems, and air-cooled RCUs that are designed only for connection to remote rack compressors.
Substitutes for ozone-depleting chemicals, as identified under the SNAP program, may be purchased with the product itself or separately. In either case, federal agencies must procure and substitute safe alternatives for ozone-depleting substances to the maximum extent practicable.
Potential LEED Contributions
This product may contribute* toward points in multiple LEED v4 rating systems, including areas required for LEED v4 building certification. Primarily, the credits will apply in the Building Design and Construction (BD+C) and Building Operations and Maintenance (O+M) categories. This includes the specialty areas of: New Construction and Major Renovation, Existing Buildings, Core & Shell, Schools, Retail, Data Centers, Warehouse and Distribution Centers, Hospitality, and Healthcare. Specific credits are:
Energy & Atmosphere - Optimize Energy Performance
Water Efficiency - Indoor Water Use Reduction
* It is important to note that no products, individually or collectively, can guarantee a specific number of points for LEED Category credit. Each credit will need to be matched to the product by a certified professional.
Related Workspaces

Head to the explore section of SFTool to view related workspaces