Air Conditioning, Room
Last Updated: 09/02/19

Click to see brand name products that meet these requirements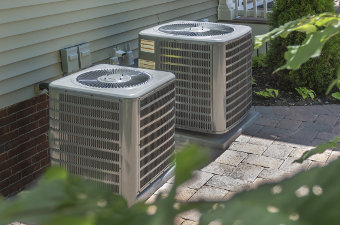 Equipment that cools enclosed spaces in households and commercial industries ―includes room air conditioning such as window units, packaged terminal air conditioners (PTAC), and portable air conditioners; central air conditioners (i.e., ducted); non-ducted systems (both mini and multi splits); packaged rooftop units; and other products. Residential and light commercial air conditioning and heat pumps are often distinguished from chillers by the fact that they condition the air directly, rather than cool (or heat) water that is then used to condition air.
Product Details
Federal agencies are required to purchase products as designated or specified under this program
| Procurement Info | Where to Buy |
| --- | --- |
| | |
Legal Requirements

Lists federal requirements related to the purchase of this item, including applicable Federal Acquisition Regulation (FAR) requirements
Life Cycle Cost Savings
Life Cycle Costing (LCC) aims to quantify the financial impact of a product over its entire life cycle to assist consumers in making decisions that will save them money over the long term.
For most applications, energy-efficient room air conditioners have the lowest life-cycle cost. For example, EPA has estimated that an Energy Star-qualified room air conditioner can save a typical user $107 in energy costs over the life of the unit, while avoiding 1729 pounds of greenhouse gas emissions.
An efficient product is cost effective when the energy costs saved over the life of the product exceed the additional upfront cost (if any) of the more efficient model. Energy Star considers both upfront costs and lifetime energy cost savings when setting required efficiency levels. Federal purchasers can assume that Energy Star-qualified products are life-cycle cost effective. On its Purchasing & Procurement page, Energy Star offers MS-Excel-based calculators to estimate how much money and energy you can save purchasing ENERGY STAR room air conditioning.
Guiding Principles
Contributes to meeting The Guiding Principles for High Performance and Sustainable Buildings
Additional Guidance
Substitutes for ozone-depleting chemicals, as identified under the SNAP program, may be purchased with the product itself or separately. In either case, federal agencies must procure and substitute safe alternatives for ozone-depleting substances to the maximum extent practicable.
Related Workspaces

Head to the explore section of SFTool to view related workspaces