Digital Signage
Last Updated: 03/15/23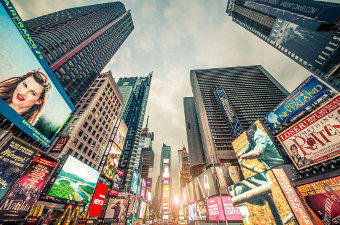 An electronic device typically with a diagonal screen size greater than 12 inches and a pixel density less than or equal to 5,000 pixels per square inch.
Product Details
Federal agencies are required by statute to purchase products as designated or specified under this program.
Federal agencies are required to purchase sustainable products and services meeting EPA's Recommendations to the maximum extent practicable.
| Procurement Info | Where to Buy |
| --- | --- |
| | |
Legal Requirements

Lists federal requirements related to the purchase of this item, including applicable Federal Acquisition Regulation (FAR) requirements
Life Cycle Cost Savings
Life Cycle Costing (LCC) aims to quantify the financial impact of a product over its entire life cycle to assist consumers in making decisions that will save them money over the long term.
For most applications, Energy Star-qualified digital displays have the lowest life-cycle cost. An efficient product is cost effective when the energy costs saved over the life of the product exceed the additional upfront cost (if any) of the more efficient model. Energy Star considers both upfront costs and lifetime energy cost savings when setting required efficiency levels. Federal purchasers can assume that Energy Star-qualified products are life-cycle cost effective.
To calculate life cycle cost savings, explore these tools:
On its Purchasing & Procurement page, Energy Star offers MS-Excel-based calculators to estimate how much money and energy you can save purchasing ENERGY STAR digital signage.
NREL's Levelized Cost of Energy Calculator can help estimate the cost of electricity as an input for your lifecycle cost calculations, accounting for both cost escalation and discount rates.
Guiding Principles
Contributes to meeting The Guiding Principles for Sustainable Federal Buildings
Additional Guidance
The final Energy Star v7.0 specification for computer monitors and signage displays took effect on July 1, 2016. There are several key changes to note. The specification includes both signage displays and signage displays and monitors with plug-in modules. The revised definition of "signage displays" differentiates these products from "computer monitors". The specification excludes products with an integrated television tuner; displays such as electronic readers or battery-powered digital picture frames; and products that must meet Food and Drug Administration specifications for medical devices that prohibit power management capabilities and/or do not have a power state meeting the definition of Sleep Mode.
Related Workspaces

Head to the explore section of SFTool to view related workspaces