Planning and Engagement Processes
Life Cycle Assessment and Buildings
As building teams attempt to assess the sustainable attributes of building products and systems, LCAs and EPDs are gaining attention. In 2010, the American Institute of Architects published the AIA Guide to Building Life Cycle Assessment in Practice

. More recently, the Carbon Leadership Forum published Life Cycle Assessment of Buildings: A Practice Guide

, in 2019. These are both good resources for life cycle assessment and buildings.
Whole building LCA is similar to a product LCA, but the product is the building. A complete whole building LCA includes all materials in the building but, for simplification, the LCA is often limited to only the materials found in the largest quantities or with the most impact. For a whole building LCA, the functional unit might be "the entire building from design to demolition for a 50-year service life," or it might be computed on a per-square-foot basis and limited to one life cycle stage (e.g., construction).
Whole building LCA principles can also be used for a variety of purposes, such as:
To provide insights into building materials choices (including new products) and design options.
To show benefits of refurbishment vs. demolition + reconstruction
To compare structural systems and finish choices for reduced environmental impact
To achieve an LCA-based certification, or to make environmental claims about buildings
To provide decision support for policy design, including the introduction of new building technologies
To provide guidance on product and process development, marketing, and selection of suppliers or subcontractors
The whole building LCA process is informed by ISO 21931

, which sets standard references and modeling assumptions. ASTM Standard E2921

further describes how to compare whole buildings LCAs in codes, standards, and rating systems. European standard EN 15978:2011

also codifies LCA for buildings and defines the following life cycle stages: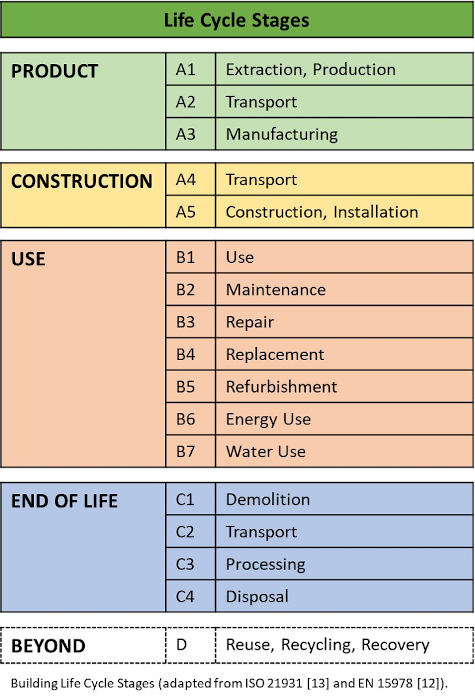 LCA Tools for Buildings
Athena EcoCalculator provides a quick view of a building's environmental footprint. It is fast but limited in design options. The spreadsheet tool uses pre-defined assemblies and envelope configurations to calculate embodied life cycle impact assessment results (operating energy is not included) based on your square footage.
Athena Impact Estimator assists design teams in exploring the environmental footprint of different material choices and core-and-shell system options. It is a stand-alone program that allows users to model custom assemblies and envelope configurations, and provides flexibility for proposed designs and existing buildings. Technical knowledge of the building construction is required for data input. The Impact Estimator allows users to include energy simulation results to calculate operating energy effects alongside the effects of embodied energy.
NIST's BEES (Building for Environmental and Economic Sustainability) tool helps design teams select cost-effective, environmentally-preferable building products. Environmental performance is determined using the ISO 14040 life cycle assessment approach. Results include life-cycle impact assessment (LCIA) results developed based on current Product Category Rules (PCRs)

. Economic performance is measured using the ASTM standard life cycle cost method.
NIST's BIRDS (Building Industry Reporting and Design for Sustainability) tool uses life cycle assessment (LCA) and life cycle costing (LCC) together to evaluate the sustainability of the materials and energy used in a building over its lifetime. It assesses 12 environmental impacts alongside economic performance to yield an assessment of the business case for design alternatives in buildings.
The BIRDS database includes energy, environmental, and cost measurements for over 12,000 new commercial and non low-rise residential buildings, covering 11 building prototypes in 228 cities across all U.S. states for 9 study period lengths.
One Click LCA is a construction sector LCA software that allows users to calculate and reduce the environmental impact of building and infrastructure projects, products, and portfolios. The tool has a materials database and integrates with a variety of CAD/BIM and energy software tools. It also has a separate EPD generator tool. The software is not free, but a free embodied carbon version is available called One Click LCA Planetary.
The Tally application allows architects and engineers to quantify the environmental impact of building materials for whole building analysis as well as comparative analyses of design options. The user can define relationships between BIM elements and construction materials from the Tally database. The result is Life Cycle Assessment on demand, and a layer of decision-making information that allows designers to evaluate various design options in real time. Tally is easy to use and requires no special modeling expertise, but it is not a free tool. The Tally methodology is consistent with LCA standards.
Embodied Carbon
The current focus on carbon emissions has brought to light the importance of embodied carbon

in materials. As buildings become more energy efficient, the global warming potential (GWP) of embodied carbon in building materials has a greater life cycle impact than carbon from operating energy.
The EC3 (Embodied Carbon in Construction Calculator) tool is an open-access tool that allows benchmarking, assessment, and reductions in embodied carbon, focused on the upfront (Stage A1-A3) supply chain emissions of construction materials. The EC3 tool uses third-party verified Environmental Product Declarations (EPDs).