Fax Machines
Last Updated: 03/15/23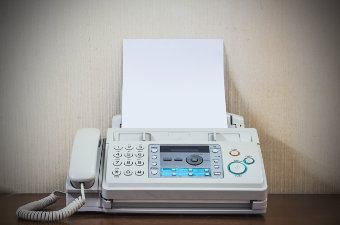 A product whose primary functions are (1) to scan hard copy originals for electronic transmission to remote units, and (2) to receive electronic transmissions for conversion to hard copy output.
Product Details
Federal agencies are required by statute to purchase products as designated or specified under this program.
Federal agencies are required to purchase sustainable products and services meeting EPA's Recommendations to the maximum extent practicable.
Procurement Info

Where to Buy

Statutory Requirements

Environmental Protection Agency (EPA) Recommendations of Specifications, Standards, and Ecolabels

(highest rating available)

---

For additional options, as well as information about these standards, please go to EPA's Recommendations website.
Legal Requirements

Lists federal requirements related to the purchase of this item, including applicable Federal Acquisition Regulation (FAR) requirements
Life Cycle Cost Savings
Life Cycle Costing (LCC) aims to quantify the financial impact of a product over its entire life cycle to assist consumers in making decisions that will save them money over the long term.
For most applications, energy-efficient fax machines have the lowest life-cycle cost. For example, FEMP has estimated that a typical federal agency purchasing 100 Energy Star-qualified fax machines could save $2,600 in energy costs over the life of the machines, compared to less efficient units. Additionally, EPA has estimated that 100 Energy Star-qualified fax machines could avoid between 2,200 and 12,000 pounds of greenhouse gas emissions each year.
An efficient product is cost effective when the energy costs saved over the life of the product exceed the additional upfront cost (if any) of the more efficient model. Energy Star considers both upfront costs and lifetime energy cost savings when setting required efficiency levels. Federal purchasers can assume that Energy Star-qualified products are life-cycle cost effective.
To calculate life cycle cost savings, explore these tools:
On its Purchasing & Procurement page, Energy Star offers MS-Excel-based calculators to estimate how much money and energy you can save purchasing ENERGY STAR fax machines.
For EPEAT-registered products, the Green Electronics Council offers a benefits calculator to quantify the environmental and financial benefits compared to standard products.
NREL's Levelized Cost of Energy Calculator can help estimate the cost of electricity as an input for your lifecycle cost calculations, accounting for both cost escalation and discount rates.
Guiding Principles
Contributes to meeting The Guiding Principles for Sustainable Federal Buildings
Additional Guidance
The 2015 Federal Electronic Asset Take-Back Guidance

addresses the inclusion of provisions in contracts or leases for manufacturer or reseller take-back of used electronic assets.
Federal Programs
Federal buyers must ensure that fax machines meet both Energy Star and FEMP Low Standby Power requirements.
Environmental Protection Agency (EPA) Recommended Specifications, Standards, and Ecolabels
Executive Order (EO) 14057, Catalyzing Clean Energy Industries and Jobs Through Federal Sustainability

, (08 DEC 2021), requires federal agencies to purchase sustainable products and services certified to the standards/ecolabels included in the Recommendations to the maximum extent practicable.
The FAR was amended in June 2014 to add clause 52.223-13

Acquisition of EPEAT®–Registered Imaging Equipment, which requires the delivery or supply of EPEAT®–registered imaging equipment. Refer to FAR 23.705

for prescribed usage of the clause.
By definition, all EPEAT-registered imaging equipment meets or exceeds the FEMP Low Standby Power 1-watt standby power requirement.
Potential LEED Contributions
This product may contribute* toward points in multiple LEED v4 rating systems, including areas required for LEED v4 building certification. It will mainly enable calculations for energy simulations and plug load calculations demonstrating energy use improvements over baseline estimates. Primarily, the credits will apply in the Building Design and Construction (BD+C) and Building Operations and Maintenance (O+M) categories. This includes the specialty areas of: New Construction and Major Renovation, Existing Buildings, Core & Shell, Schools, Retail, Data Centers, Warehouse and Distribution Centers, Hospitality, and Healthcare. Specific credits are:
Energy & Atmosphere - Optimize Energy Performance
* It is important to note that no products, individually or collectively, can guarantee a specific number of points for LEED Category credit. Each credit will need to be matched to the product by a certified professional.
Related Workspaces

Head to the explore section of SFTool to view related workspaces