Smart Thermostats
Last Updated: 09/30/19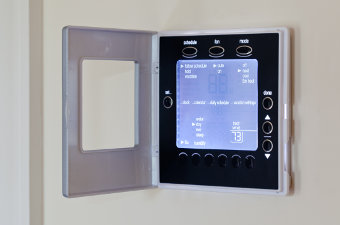 A device that controls heating, ventilation, and air-conditioning (HVAC) equipment to regulate the temperature of the room or space in which it is installed, and has the ability to communicate with sources external to the HVAC system.
Product Details
Federal agencies are required by statute to purchase products as designated or specified under this program.
Federal agencies are required to purchase sustainable products and services meeting EPA's Recommendations to the maximum extent practicable.
| Procurement Info | Where to Buy |
| --- | --- |
| | |
Legal Requirements

Lists federal requirements related to the purchase of this item, including applicable Federal Acquisition Regulation (FAR) requirements
Life Cycle Cost Savings
Life Cycle Costing (LCC) aims to quantify the financial impact of a product over its entire life cycle to assist consumers in making decisions that will save them money over the long term.
According to EPA's ENERGY STAR Program, the average consumer using an ENERGY STAR certified smart thermostat will save more than 8% of their heating and cooling energy, amounting to approximately $50 annually. If all thermostatically controlled heating and cooling in the US achieved savings of this level, it would total 56 trillion BTU and offset 13 billion pounds of greenhouse gas emissions, equivalent to the emissions of 1.2 million motor vehicles each year.
Guiding Principles
Contributes to meeting The Guiding Principles for Sustainable Federal Buildings
Additional Guidance
In January of 2017, EPA finalized the Version 1.0 ENERGY STAR Connected Thermostats specification. Included in the specification are products that meet the definition of "connected" or "smart" product as specified by the Energy Star program. These products provided as part of a larger product offering, such as a home security system, may be certified but will be subject to specific labeling requirements. Smart thermostats products that are unable to collect the required data for the energy savings metric as required by Energy Star and line voltage thermostats are excluded from the specification.
Potential LEED Contributions
This product may contribute* toward points in multiple LEED v4 rating systems, including areas required for LEED v4 building certification. Primarily, the credits will apply in the Building Design and Construction (BD+C) and Building Operations and Maintenance (O+M) categories. This includes the specialty areas of: New Construction and Major Renovation, Existing Buildings, Core & Shell, Schools, Retail, Data Centers, Warehouse and Distribution Centers, Hospitality, and Healthcare. Specific credits are:
Energy & Atmosphere - Optimize Energy Performance
* It is important to note that no products, individually or collectively, can guarantee a specific number of points for LEED Category credit. Each credit will need to be matched to the product by a certified professional.
Related Workspaces

Head to the explore section of SFTool to view related workspaces