U.S. Custom House in Portland, Maine
Project Background
The United States Custom House Building is located in downtown Portland, ME. Constructed between 1867- 1872, it combines Second Empire and Renaissance Revival Styles and is listed in the National Register of Historic Places. The facility is a 27,000 GSF, 6-story (4 above grade and 2 below), free-standing, I-shaped office building which includes the International Trade Agency (ITA), Department of Labor (LD WHD), National Oceanic and Atmospheric Administration (NOAA), Department of Homeland Security (DHS), and the Federal Mediation and Conciliation Service (FMCS) as tenants.
Sustainability Features
The New England Regional team, which included GSA employees familiar with LEED EBOM, conducted the certification process internally with limited financing. The team's goal was to both learn about and help drive change towards a more sustainable work environment at the Federal Building. Through an in-depth analysis of current operations, the team identified and focused their efforts on areas in need of improvement. In 2016, an HVAC modernization project is underway replacing the 2002 heat pumps with more efficient models, installed to reduce energy and better control space temperature. GSA will replace and relocate the heat recovery ventilators, replace fan coil units, and install a building automation system (BAS) and an air handling unit. As of August 2016, the units were installed along with the BAS, and testing continues. New geothermal cooling heat pumps have also been installed and should be in use in 2016 after construction of prior stages are completed. The Team is looking to incorporate sustainability features into the building, which among other priorities looked to reduce energy and water consumption. To reduce water usage, new low flow devices for all water fixtures are proposed for installation. For the reduction of energy, the team proposed the use of energy efficient bulbs, wireless daylighting and dimmers for the main customs hall area, timers and motion sensors on all electrical switches and weather stripping of upper and lower double doors, all pending approval. The decision to obtain LEED certification is motivated by a desire to continually pursue and implement sustainable building practices, such as reduced energy and water usage and increased solid waste diversion.
Case Studies
See examples of case studies and their impact on sustainability in Learn
Media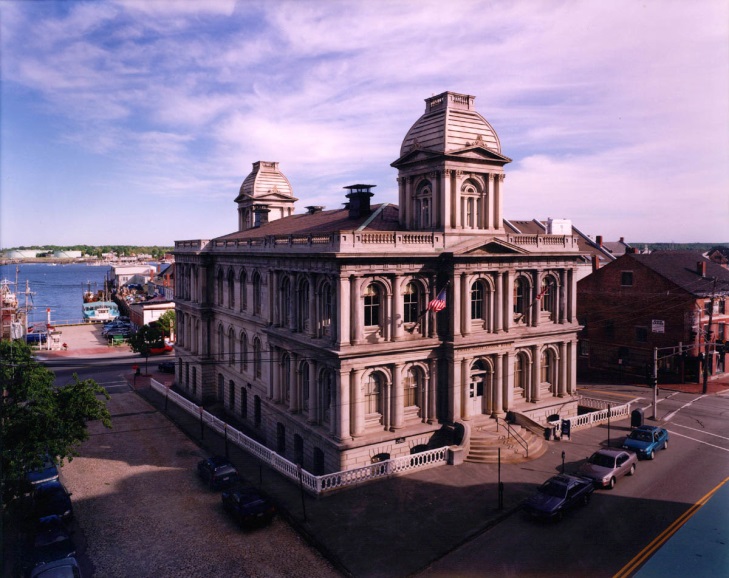 U.S. Custom House in Portland, Maine