Connected Workplace
Overview
Like many other organizations today, Cisco came to the conclusion that their workplace environment was at odds with the way they worked. People were seldom at their desks. Meeting spaces were in short supply. Communication was ever more variable face to face, instant messaging, desk top video, phone, e-mail. And work hours shifted dramatically as the need to work globally increased. With these changes in mind, Cisco created the Connected Workplace. It is currently in the Proof of Concept phase.
Key Goals:
Encourage collaboration
Reduce real estate costs
Reduce infrastructure costs
Accommodate different work styles
Workplace Solutions:
Unassigned workspaces
Increased number and variety of meeting spaces, from enclosed conference rooms and informal areas with comfortable chairs to a centrally located cafe
Small individual workstations
Highly mobile furnishings and space dividers
Lockers for personal items
Increased density; the space used for the POC would normally hold 88 employees compared to the 140 actually assigned to the workplace
High visibility throughout the space
High daylight and views to the surrounding outdoor landscape
Enabling Technologies:
Wireless infrastructure and wireless LANS
Laptops and docking stations
Cisco work support software for individuals and groups,
Cisco IP Communications Technology, including software that enables calls over PCs using wired or wireless headsets
Mobile video conferencing tools and software for web meetings
Interactive white boards
Instant messaging, e-mail and voice mail
Tools for enabling workers to locate one another electronically
Preliminary Results
Employees expressed generally high levels of satisfaction with the space
80% said they would prefer to stay in the space rather than return to their previous workspace
Those who spend the most time at their desks were more challenged by the mobility
Cost savings of 37% to 60% across categories such as rent, construction, furniture, cabling, and workplace services
Source: "Cisco Connected Workplace Enhances Work Experience and Cuts Costs." 2009, Case study, Cisco Systems, Inc.
Case Studies
See examples of case studies and their impact on sustainability in Learn
Media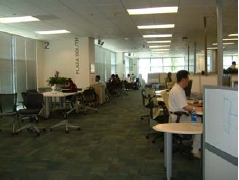 Open office area at Cisco offices promote collaboration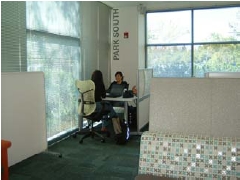 Open meeting spaces provide a flexible environment