LCA Example: Light Emitting Diodes (LEDs)
The US Department of Energy has developed an LCA report to help evaluate the energy and environmental benefits of LEDs when compared to incandescent and fluorescent lighting. This analysis follows the four steps outlined on the Conduting LCA page. When using LCA to compare equipment, it is important to establish a common unit of performance by which each will be judged. For lighting, the useful life of the three alternatives below varies greatly. When comparing the total environmental impact of LEDs with incandescents, one must remember the frequent replacement needs of the latter.
Figure 1: Number of Lamps Needed to Supply 20 Million Lumen-Hours.1
The figure below sums up the results of DOE's study: though the manufacturing of LEDs may have a greater environmental impact than its competition, the dominant source of impact is the lifetime energy use. Today's LEDs are roughly equivalent to CFLs with respect to LCA. If the technology continues to advance as expected, by 2015 the LED should have the clear advantage with respect to total environmental impact.
Figure 2: Life-Cycle Energy of Incandescent Lamps, CFLs, and LED Lamps.2
1,2 US Department of Energy, "Life-Cycle Assessment of Energy and Environmental Impacts of LED Lighting Products," Februrary 2012
Related Topics
Assessments
Assessments are essential tools for linking science and decision making. They survey, integrate, and synthesize science, within and between scientific disciplines and across sectors and regions.
Source: USGCRP: Assess the U.S. Climate - What are assessments?
Efficiency
Efficiency is a comparison of the amount of energy used compared to the amount of output produced. In the built environment, this means using the least amount of energy (electricity, natural gas, etc.) to operate a facility appropriately. Steps that can help a building run efficiently include: ensuring there are no air leaks, using sensors or timers to ensure the building isn't operating when vacant, and using energy-efficient equipment.
LED, CFL, lamp
Life Cycle Cost Assessment (LCA)
Materials and resources all have environmental, social and economic impacts beyond their use in a project. Impacts occur during harvest or extraction of raw materials, manufacturing, packaging, transporting, installing, use, and end-of-life disposal, reuse, or recycling. These "cradle to cradle" impacts should be considered when purchasing materials. The formal study of this process is known as Environmental Life Cycle Assessment (LCA).
Similarly, Life Cycle Cost Assessment examines the costs and savings throughout the life cycle of a building material. For example, energy efficient equipment and appliances can be more expensive when initially purchased but will save energy (and money) throughout the life of the project. Therefore, it may make sense to invest in more efficient equipment that costs more up front but saves money and energy over time.
The Sustainable Facilities Tool allows you to compare life cycle costs for materials, as well as other environmental criteria, by following the green dots and clicking "compare materials" in Explore Sustainable Workspaces.
Also, check out information on LCA at the Whole Building Design Guide:
WBDG | Life Cycle Cost Analysis (LCCA)
Case Study
Spatial Equity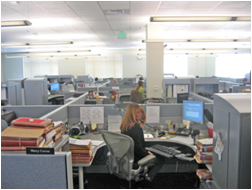 Organizations today are less hierarchical and work is more team based, more mobile, and more cross functional. A key to spatial equity is that space layout and workstation standards are based on new ways of working and specific work tasks and business needs rather than organizational hierarchy.
Share Your Story
Do you have a story to share? See and share examples of successes and struggles from our user community in Share