Agency Specific Procurement
Department of Defense (DoD) Sustainable Product Purchasing
The Department of Defense (DoD) established a sustainable product purchasing program to enhance and sustain mission readiness through cost effective acquisition that achieves compliance and reduces resource consumption and solid and hazardous waste generation. Sustainable product purchasing efforts span from transportation and energy to recycled and biobased content.
Continue reading: Department of Defense (DoD) Sustainable Product Purchasing
Did You Know?
40% of U.S. architects, engineers, contractors, building owners and building consultants report that the majority of building work was green in 2012. It is expected that 53% of these U.S. firms will be engaged in mostly green building work by 2015. 44% of all nonresidential building project starts were green in 2012 as well, up from 2% in 2005. Green buildings hold strong appeal for both commercial and institutional (including government) owners.
Source: McGraw Hill Construction (2013). 2013 World Green Building Trends SmartMarket Report.
Case Study
Sense of Place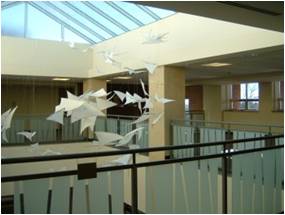 What makes a workplace special? What fosters a sense of attachment, engagement and identity? These are the kinds of questions that underlie the sense of place. The workplace is increasingly seen as a "brand" that conveys not only a place, but also the mission and values of the organization. The GSA workplace program combines branding and sense of place with sustainable approaches to create special places imbued with meaning and purpose.
Share Your Story
Do you have a story to share? See and share examples of successes and struggles from our user community in Share