Agency Specific Procurement
Department of Defense (DoD) Sustainable Product Purchasing
The Department of Defense (DoD) established a sustainable product purchasing program to enhance and sustain mission readiness through cost effective acquisition that achieves compliance and reduces resource consumption and solid and hazardous waste generation. Sustainable product purchasing efforts span from transportation and energy to recycled and biobased content.
Continue reading: Department of Defense (DoD) Sustainable Product Purchasing
Did You Know?
GSA has expanded our SFTool with a Product Search that streamlines sustainable product procurement for vendors and buyers. Visit SFTool Product Search
Case Study
Health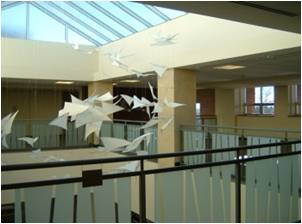 Good health has both physical and psychological components. Being healthy means the absence of disease and illness, as well as feeling positive about life and work. The workplace can play a role in the health of workers by eliminating risks and creating conditions that support cognitive, emotional, and social well-being.
Share Your Story
Do you have a story to share? See and share examples of successes and struggles from our user community in Share