Agency Specific Procurement
Department of Defense (DoD) Sustainable Product Purchasing
The Department of Defense (DoD) established a sustainable product purchasing program to enhance and sustain mission readiness through cost effective acquisition that achieves compliance and reduces resource consumption and solid and hazardous waste generation. Sustainable product purchasing efforts span from transportation and energy to recycled and biobased content.
Continue reading: Department of Defense (DoD) Sustainable Product Purchasing
Did You Know?
People in the U.S. spend about 90% of their time indoors.
Source: Environmental Protection Agency (1987). The Total Exposure Assessment Methodology (TEAM) Study.

Case Study
Flexible Workplace Design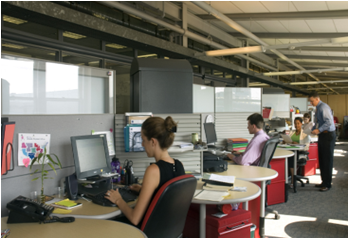 Today's workplaces are often in flux. Organizations change direction or develop new services. People move to new spaces and take on new responsibilities. Teams form and re-form. The spaces themselves are transformed to meet these new needs. These changes are much easier to accommodate, when the workplace design supports flexibility.
Share Your Story
Do you have a story to share? See and share examples of successes and struggles from our user community in Share