Agency Specific Procurement
Department of Defense (DoD) Sustainable Product Purchasing
The Department of Defense (DoD) established a sustainable product purchasing program to enhance and sustain mission readiness through cost effective acquisition that achieves compliance and reduces resource consumption and solid and hazardous waste generation. Sustainable product purchasing efforts span from transportation and energy to recycled and biobased content.
Continue reading: Department of Defense (DoD) Sustainable Product Purchasing
Did You Know?
40% of U.S. architects, engineers, contractors, building owners and building consultants report that the majority of building work was green in 2012. It is expected that 53% of these U.S. firms will be engaged in mostly green building work by 2015. 44% of all nonresidential building project starts were green in 2012 as well, up from 2% in 2005. Green buildings hold strong appeal for both commercial and institutional (including government) owners.
Source: McGraw Hill Construction (2013). 2013 World Green Building Trends SmartMarket Report.
Case Study
The Workplace Environment as a Catalyst for Social Change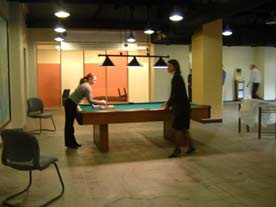 We know workplace design can influence functional behaviors, but can it be a catalyst for social change? Can organizations use the environment to improve the sense of community, increase morale, reduce stress, and develop cross group relationships?
Share Your Story
Do you have a story to share? See and share examples of successes and struggles from our user community in Share