Recycling Checklist
Minimize waste by using the tips below during initial product procurement and final disposal.
At Purchase

Reduce Packaging

Buy in bulk
Prioritize products with minimal packaging

Reduce Disposal Waste

Prioritie reusable items over single-use
Consider ease of maintenance and repair

Increase Recyclability

Look for items that can be easily disassembled into component materials

Ensure Local Recycling

Check that materials can be recycled locally:
Disposal
Additional Resources
Related Topics
Durable Goods Recycling
Greenhouse gas emissions can be reduced by properly disposing of durable goods such as furniture and electronics. Durable goods may be diverted from the landfill through re-use programs or recycling. Find a local program or charity to donate used furniture or electronics, or find a certified vendor who will responsibly recycle the materials.
EPA | Reduce, Reuse, Recycle

Recycling
Glass, plastic, aluminum, cardboard and paper (including glossy magazines, envelopes with plastic windows and sticky notes) can all be easily recycled. Depending on the waste hauler, recycling bins can include commingled waste (i.e. all materials are collected in one bin) or they may require separated waste (i.e. one bin for paper, one bin for plastics, etc). By recycling products, materials are sent back to the marketplace rather than to the landfill.
EPA | Recycling Basics

Did You Know?
The U.S. generated approximately 251 million tons of municipal solid waste (MSW) in 2012. Almost 87 million tons were recycled and composted, which represents a 34.5% recycling rate. Solid waste generated per capita is the lowest since the 1980s. This is a 3 percent increase in the tons recycled.
Source: US EPA, Municipal Solid Waste Generation, Recycling, and Disposal in the United States: Facts and Figures for 2012

.
Reduce facility waste with SFTool
Case Study
Sense of Place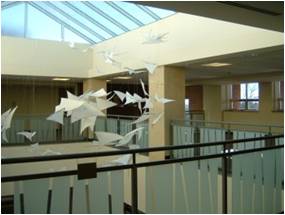 What makes a workplace special? What fosters a sense of attachment, engagement and identity? These are the kinds of questions that underlie the sense of place. The workplace is increasingly seen as a "brand" that conveys not only a place, but also the mission and values of the organization. The GSA workplace program combines branding and sense of place with sustainable approaches to create special places imbued with meaning and purpose.