Recycling Checklist
Minimize waste by using the tips below during initial product procurement and final disposal.
At Purchase

Reduce Packaging

Buy in bulk
Prioritize products with minimal packaging

Reduce Disposal Waste

Prioritie reusable items over single-use
Consider ease of maintenance and repair

Increase Recyclability

Look for items that can be easily disassembled into component materials

Ensure Local Recycling

Check that materials can be recycled locally:
Disposal
Additional Resources
Related Topics
Durable Goods Recycling
Greenhouse gas emissions can be reduced by properly disposing of durable goods such as furniture and electronics. Durable goods may be diverted from the landfill through re-use programs or recycling. Find a local program or charity to donate used furniture or electronics, or find a certified vendor who will responsibly recycle the materials.
EPA | Reduce, Reuse, Recycle

Recycling
Glass, plastic, aluminum, cardboard and paper (including glossy magazines, envelopes with plastic windows and sticky notes) can all be easily recycled. Depending on the waste hauler, recycling bins can include commingled waste (i.e. all materials are collected in one bin) or they may require separated waste (i.e. one bin for paper, one bin for plastics, etc). By recycling products, materials are sent back to the marketplace rather than to the landfill.
EPA | Recycling Basics

Did You Know?
Recycling a single plastic bottle can conserve enough energy to light a 60-watt bulb for up to 6 hours.
Source: Bureau of International Recycling
Case Study
Occupant Comfort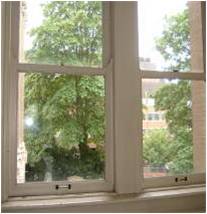 Comfortable workers are more likely to be productive and engaged with their work than those who struggle to work in spaces that create barriers and stresses. With an ever increasing number of environmental issues to be mindful of when designing spaces, GSA is developing practices that support both sustainability and worker comfort.