Industrial Drums
Last Updated: 09/19/17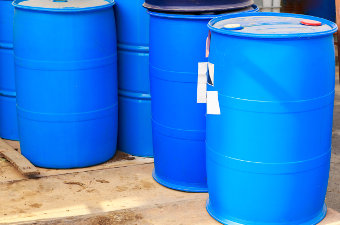 An industrial drum is a cylindrical container used for shipping and storing liquid or solid materials. According to the Plastic Drum Institute (PDI), between 12 and 15 million plastic drums are manufactured annually. Most drums are used to ship chemical and petroleum products. Steel, plastic and pressed fiberboard drums can be manufactured with recovered steel, HDPE and paperboard, respectively.
Product Details
Federal agencies are required by statute to purchase products as designated or specified under this program.
Federal agencies are required to purchase sustainable products and services meeting EPA's Recommendations to the maximum extent practicable.
| Product Type | Procurement Info | Where to Buy |
| --- | --- | --- |
| Fiber Drums | (100% postconsumer paper) | |
| Plastic Drums | (30-100% recovered high density polyethylene; including 30-100% postconsumer content) | |
| Steel drums | (25-30% recovered steel; including 16% postconsumer content) | |
Legal Requirements

Lists federal requirements related to the purchase of this item, including applicable Federal Acquisition Regulation (FAR) requirements