Delineators
Last Updated: 09/19/17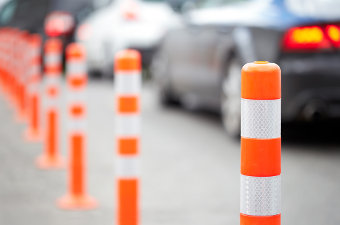 Delineators are temporary pavement markers that come in many shapes, sizes and designs. They are manufactured primarily from recovered and postconsumer high density polyethylene (HDPE). Delineator bases are either steel stakes that can be driven into the ground or rubber to support the delineator on the road surface.
Product Details
Federal agencies are required by statute to purchase products as designated or specified under this program.
Federal agencies are required to purchase sustainable products and services meeting EPA's Recommendations to the maximum extent practicable.
| Product Type | Procurement Info | Where to Buy |
| --- | --- | --- |
| Plastic | (25-90% recovered plastic; including 25-95% postconsumer content) | |
| Rubber | (100% postconsumer rubber (base only)) | |
| Steel | (See EPA guidance at www.epa.gov/cpg) | |
Legal Requirements

Lists federal requirements related to the purchase of this item, including applicable Federal Acquisition Regulation (FAR) requirements
Guiding Principles
Contributes to meeting The Guiding Principles for Sustainable Federal Buildings