Traffic Barricades
Last Updated: 09/19/17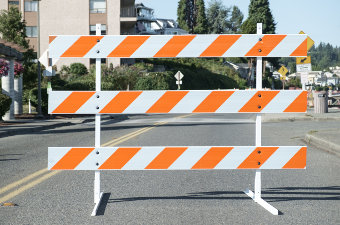 Traffic barricades can be used to redirect or restrict traffic in areas of highway construction or repair. They are typically made from wood, steel, plastic, fiberglass or a combination of these materials. Many manufacturers have switched to the use of recycled materials in both the supporting frame and rails of the barricades. EPA's designation covers only Types I and II traffic barricades.
Product Details
Federal agencies are required by statute to purchase products as designated or specified under this program.
Federal agencies are required to purchase sustainable products and services meeting EPA's Recommendations to the maximum extent practicable.
| Product Type | Procurement Info | Where to Buy |
| --- | --- | --- |
| Fiberglass | (100% recovered fiberglass) | |
| Plastic | (100% recovered plastic; including 80-100% postconsumer content) | |
| Steel | (See EPA guidance at www.epa.gov/cpg) | |
Legal Requirements

Lists federal requirements related to the purchase of this item, including applicable Federal Acquisition Regulation (FAR) requirements
Guiding Principles
Contributes to meeting The Guiding Principles for Sustainable Federal Buildings