Indoor Air Quality
EPA studies indicate indoor levels of pollutants may be up to ten times higher than outdoor levels.
Source: Environmental Protection Agency (2008). An Introduction to Indoor Air Quality

.
Improve indoor air quality with SFTool
Related Topics
Air Contaminants
Air contaminants are any substances in the air, particulate or gaseous, which pollute the air and make it hazardous to human health. Good indoor air quality management techniques seek to reduce the amount of contaminants in the air and protect the health of vulnerable building occupants.
Indoor Air Quality (IAQ)
Indoor Air Quality (IAQ) refers to the state of the air within a space. A space with good indoor air quality is one that is low in toxins, contaminants and odors. Good air quality possible when spaces are well ventilated (with outside air) and protected from pollutants brought into the space or by pollutants off-gassed within the space. Strategies used to create good IAQ include bringing in 100% outside air, maintaining appropriate exhaust systems, complying with ASHRAE Standard 62.1, utilizing high efficiency MERV filters in the heating ventilation and air conditioning (HVAC) system, installing walk-off mats at entryways, prohibiting smoking with the space and near operable windows and air intakes, providing indoor plants, and using only low-emitting / non-toxic materials and green housekeeping products.
EPA | Indoor Air Quality

ASHRAE

Did You Know?
Plug loads can average approximately 30% of electricity use in office settings, much of which can be attributed to parasitic loads (power draw of a plug-load that is not performing useful work). Source: Office Plug Load Field Monitoring Report

; Moorefield, L., et al. (2008). Portland, OR, Ecos: 74. Reduce your plug load costs with SFTool
Case Study
Flexible Workplace Design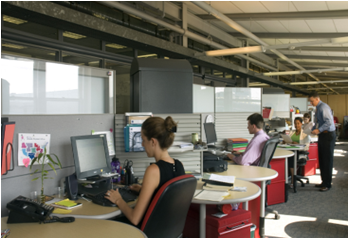 Today's workplaces are often in flux. Organizations change direction or develop new services. People move to new spaces and take on new responsibilities. Teams form and re-form. The spaces themselves are transformed to meet these new needs. These changes are much easier to accommodate, when the workplace design supports flexibility.
Share Your Story
Do you have a story to share? See and share examples of successes and struggles from our user community in Share