Indoor Air Quality
EPA studies indicate indoor levels of pollutants may be up to ten times higher than outdoor levels.
Source: Environmental Protection Agency (2008). An Introduction to Indoor Air Quality

.
Improve indoor air quality with SFTool
Related Topics
Air Contaminants
Air contaminants are any substances in the air, particulate or gaseous, which pollute the air and make it hazardous to human health. Good indoor air quality management techniques seek to reduce the amount of contaminants in the air and protect the health of vulnerable building occupants.
Indoor Air Quality (IAQ)
Indoor Air Quality (IAQ) refers to the state of the air within a space. A space with good indoor air quality is one that is low in toxins, contaminants and odors. Good air quality possible when spaces are well ventilated (with outside air) and protected from pollutants brought into the space or by pollutants off-gassed within the space. Strategies used to create good IAQ include bringing in 100% outside air, maintaining appropriate exhaust systems, complying with ASHRAE Standard 62.1, utilizing high efficiency MERV filters in the heating ventilation and air conditioning (HVAC) system, installing walk-off mats at entryways, prohibiting smoking with the space and near operable windows and air intakes, providing indoor plants, and using only low-emitting / non-toxic materials and green housekeeping products.
EPA | Indoor Air Quality

ASHRAE

Did You Know?
Recycling a single plastic bottle can conserve enough energy to light a 60-watt bulb for up to 6 hours.
Source: Bureau of International Recycling
Case Study
Occupant Comfort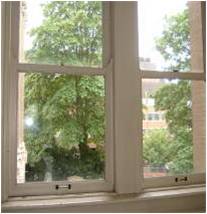 Comfortable workers are more likely to be productive and engaged with their work than those who struggle to work in spaces that create barriers and stresses. With an ever increasing number of environmental issues to be mindful of when designing spaces, GSA is developing practices that support both sustainability and worker comfort.