Helpful Tools
Check out our helpful tools for everyday tasks, including understanding federal requirements, project planning, procurement, and O&M.
Explore our Tools
Related Topics
Federal Requirements
Federal requirements are important considerations when starting any sustainable project. Within SFTool, these include the Guiding Principles, Executive Orders, and other guidance or regulatory documents.
Federal requirements are viewable when exploring Sustainable Workspaces and Whole Building Systems.
Green Procurement Compilation (GPC)
The Green Procurement Compilation (GPC) consolidates and organizes information from several federal green purchasing programs in one place, saving you from researching multiple web sites.
It makes it easy to identify sustainable products and their associated guidance documentation to facilitate green purchasing decisions.
Click here to view the Green Procurement Compilation (GPC)
Sustainable Purchasing
Purchasing managers should create purchasing plans and programs that give preference to items containing recycled content, certified wood, and rapidly renewable materials, as well as items that are energy efficient, non-toxic, durable and locally manufactured, harvested and / or extracted. Further, purchasing managers should prioritize vendors who promote source reduction through reusable or minimal packaging of products.
EPA | Greener Products

Department of Energy | Federal Laws and Requirements Search

Did You Know?
Every ton (about 40 cartons) of 30% postconsumer content copier paper saves the equivalent of 7.2 trees
Source: ConservaTree

Case Study
Occupant Comfort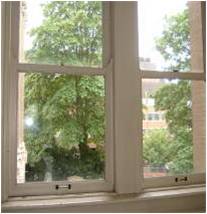 Comfortable workers are more likely to be productive and engaged with their work than those who struggle to work in spaces that create barriers and stresses. With an ever increasing number of environmental issues to be mindful of when designing spaces, GSA is developing practices that support both sustainability and worker comfort.