Helpful Tools
Check out our helpful tools for everyday tasks, including understanding federal requirements, project planning, procurement, and O&M.
Explore our Tools
Related Topics
Federal Requirements
Federal requirements are important considerations when starting any sustainable project. Within SFTool, these include the Guiding Principles, Executive Orders, and other guidance or regulatory documents.
Federal requirements are viewable when exploring Sustainable Workspaces and Whole Building Systems.
Green Procurement Compilation (GPC)
The Green Procurement Compilation (GPC) consolidates and organizes information from several federal green purchasing programs in one place, saving you from researching multiple web sites.
It makes it easy to identify sustainable products and their associated guidance documentation to facilitate green purchasing decisions.
Click here to view the Green Procurement Compilation (GPC)
Sustainable Purchasing
Purchasing managers should create purchasing plans and programs that give preference to items containing recycled content, certified wood, and rapidly renewable materials, as well as items that are energy efficient, non-toxic, durable and locally manufactured, harvested and / or extracted. Further, purchasing managers should prioritize vendors who promote source reduction through reusable or minimal packaging of products.
Did You Know?
Buildings represent about 76% of electricity use and 40% of U.S. primary energy use, making it essential to reduce energy consumption to reduce costs to building owners and tenants. Source: U.S. Department of Energy (2015). Quadrennial Technology Review 2015, Chapter 5.
Case Study
The Workplace Environment as a Catalyst for Social Change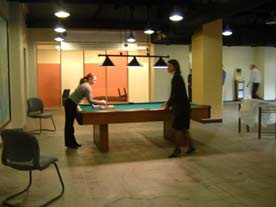 We know workplace design can influence functional behaviors, but can it be a catalyst for social change? Can organizations use the environment to improve the sense of community, increase morale, reduce stress, and develop cross group relationships?
Share Your Story
Do you have a story to share? See and share examples of successes and struggles from our user community in Share