Energy Savings Performance Contracts (ESPCs)
Energy savings performance contracts (ESPCs) allow federal agencies to implement cost-saving facility energy improvements with no up-front capital costs. Source: U.S. DOE Federal Energy Management Program (FEMP), Energy Savings Performance Contracts for Federal Agencies

Related Topics
Energy Performance
Assessing a building's energy performance involves comparing its energy use to that of peers or a standard. The ENERGY STAR program provides recognized benchmarks for assessing a building's energy performance.
Energy Savings Performance Contract (ESPC)
Energy savings performance contracts (ESPCs) allow Federal agencies to complete energy-savings projects without up-front capital costs and special Congressional appropriations. An ESPC is a partnership between a Federal agency and an energy service company (ESCO). The ESCO conducts a comprehensive energy audit of Federal facilities and identifies improvements to save energy. In consultation with the Federal agency, the ESCO designs and constructs a project that meets the agency's needs and arranges the necessary funding. The ESCO guarantees that the improvements will generate energy cost savings to pay for the project over the term of the contract (up to 25 years). After the contract ends, all additional cost savings accrue to the agency.
Federal agencies can access expert assistance, guidance, and training to help them implement ESPC projects through the Federal Energy Management Program

(FEMP).
Did You Know?
You can get one free hour's worth of continuing education / professional development by passing the Federal Facilities Skills Assessment Tool (FEDSAT)!
Take the Assessment
Case Study
Health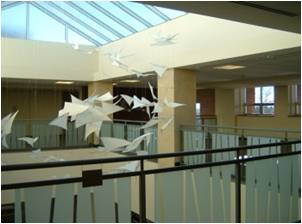 Good health has both physical and psychological components. Being healthy means the absence of disease and illness, as well as feeling positive about life and work. The workplace can play a role in the health of workers by eliminating risks and creating conditions that support cognitive, emotional, and social well-being.