LED Price Drop
LED prices have dropped rapidly in recent years. They are now more lifecycle cost effective than fluorescents in every lighting application.
Source: U.S. Department of Energy, Sept 2017, SSL 2017 Suggested Research Topics Supplement, Technology and Market Context
Learn more about lighting on SFTool
Related Topics
Electricity
In the context of buildings, electricity is the flowing of electron-powered energy used to power machines and other devices. Traditional electricity is created in coal-fired plants. More sustainable, renewable electricity can be generated through solar panels, wind farms, and other means.
Lamps
Did You Know?
40% of U.S. architects, engineers, contractors, building owners and building consultants report that the majority of building work was green in 2012. It is expected that 53% of these U.S. firms will be engaged in mostly green building work by 2015. 44% of all nonresidential building project starts were green in 2012 as well, up from 2% in 2005. Green buildings hold strong appeal for both commercial and institutional (including government) owners.
Source: McGraw Hill Construction (2013). 2013 World Green Building Trends SmartMarket Report.
Case Study
Flexible Workplace Design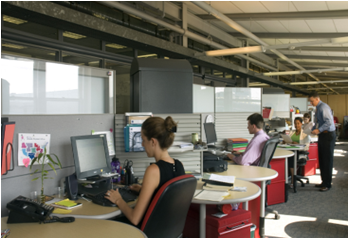 Today's workplaces are often in flux. Organizations change direction or develop new services. People move to new spaces and take on new responsibilities. Teams form and re-form. The spaces themselves are transformed to meet these new needs. These changes are much easier to accommodate, when the workplace design supports flexibility.
Share Your Story
Do you have a story to share? See and share examples of successes and struggles from our user community in Share