LED Price Drop
LED prices have dropped rapidly in recent years. They are now more lifecycle cost effective than fluorescents in every lighting application.
Source: U.S. Department of Energy, Sept 2017, SSL 2017 Suggested Research Topics Supplement, Technology and Market Context

Learn more about lighting on SFTool
Related Topics
Electricity
In the context of buildings, electricity is the flowing of electron-powered energy used to power machines and other devices. Traditional electricity is created in coal-fired plants. More sustainable, renewable electricity can be generated through solar panels, wind farms, and other means.
Lamps
Did You Know?
Recycling a single plastic bottle can conserve enough energy to light a 60-watt bulb for up to 6 hours.
Source: Bureau of International Recycling
Case Study
Occupant Comfort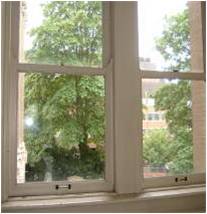 Comfortable workers are more likely to be productive and engaged with their work than those who struggle to work in spaces that create barriers and stresses. With an ever increasing number of environmental issues to be mindful of when designing spaces, GSA is developing practices that support both sustainability and worker comfort.