IEQ and Asthma
Indoor contaminants such as dust mites, molds, cockroaches, pet dander, secondhand smoke and some chemicals can trigger asthma attacks. One in 11 children and one in 12 adults suffer from asthma.
Source: Asthma's Impact on the Nation (2012): Data from the CDC National Asthma Control Program
Improve IEQ with SFTool
Related Topics
Air Contaminants
Air contaminants are any substances in the air, particulate or gaseous, which pollute the air and make it hazardous to human health. Good indoor air quality management techniques seek to reduce the amount of contaminants in the air and protect the health of vulnerable building occupants.
Did You Know?
Between 1950 and 2000, the U.S. population nearly doubled. However, in that same period, public demand for water more than tripled. Americans now use an average of 100 gallons of water each day—enough to fill 1,600 drinking glasses. Source: EPA WaterSense
Reduce water use with SFTool
Case Study
Sense of Place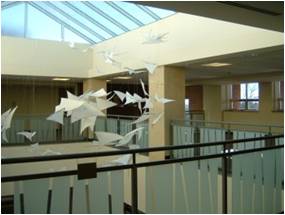 What makes a workplace special? What fosters a sense of attachment, engagement and identity? These are the kinds of questions that underlie the sense of place. The workplace is increasingly seen as a "brand" that conveys not only a place, but also the mission and values of the organization. The GSA workplace program combines branding and sense of place with sustainable approaches to create special places imbued with meaning and purpose.
Share Your Story
Do you have a story to share? See and share examples of successes and struggles from our user community in Share