IEQ and Asthma
Indoor contaminants such as dust mites, molds, cockroaches, pet dander, secondhand smoke and some chemicals can trigger asthma attacks. One in 11 children and one in 12 adults suffer from asthma.
Source: Asthma's Impact on the Nation (2012): Data from the CDC National Asthma Control Program

Improve IEQ with SFTool
Related Topics
Air Contaminants
Air contaminants are any substances in the air, particulate or gaseous, which pollute the air and make it hazardous to human health. Good indoor air quality management techniques seek to reduce the amount of contaminants in the air and protect the health of vulnerable building occupants.
Did You Know?
LED prices have dropped rapidly in recent years. They are now more lifecycle cost effective than fluorescents in every lighting application.
Source: U.S. Department of Energy, Sept 2017, SSL 2017 Suggested Research Topics Supplement, Technology and Market Context

Learn more about lighting on SFTool
Case Study
Health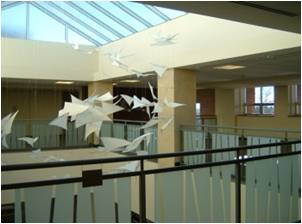 Good health has both physical and psychological components. Being healthy means the absence of disease and illness, as well as feeling positive about life and work. The workplace can play a role in the health of workers by eliminating risks and creating conditions that support cognitive, emotional, and social well-being.
Share Your Story
Do you have a story to share? See and share examples of successes and struggles from our user community in Share