Post Consumer Fiber Paper
Every ton (about 40 cartons) of 30% postconsumer content copier paper saves the equivalent of 7.2 trees
Source: ConservaTree

Related Topics
Post-Consumer
Post-consumer content is an end product that has completed its life cycle as a consumer item and rather than being sent to the landfill, it is diverted by reusing the material in a new product. Examples of items that may include post-consumer content are office paper, cardboard, aluminum cans, plastics and metals. By recycling materials that have served their intended use, new products can be made. For example, a plastic bottle can become carpet backing by placing it in a recycling bin. It's just as important to purchase materials that contain recycled content as it is to recycle.
Whole Building Design Guide | Evaluating and Selecting Green Products

EPA | Recycling Basics

Recycling
Recycling is the process of collecting and processing materials (that would otherwise be thrown away as trash) and remanufacturing them into new products. Recycling support stations and the education of occupants and janitorial staff are the backbone of a successful waste diversion plan. Start by confirming with the recycling hauler and compost service what materials are acceptable and the proper collection method. Separate, color-coded, well-labeled and strategically placed recycling containers and waste receptacles make sorting and collection convenient and support occupant participation.
EPA | Recycling Basics

Did You Know?
Between 1950 and 2000, the U.S. population nearly doubled. However, in that same period, public demand for water more than tripled. Americans now use an average of 100 gallons of water each day—enough to fill 1,600 drinking glasses. Source: EPA WaterSense

Reduce water use with SFTool
Case Study
The Workplace Environment as a Catalyst for Social Change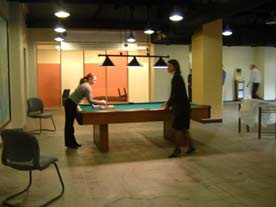 We know workplace design can influence functional behaviors, but can it be a catalyst for social change? Can organizations use the environment to improve the sense of community, increase morale, reduce stress, and develop cross group relationships?