Post Consumer Fiber Paper
Every ton (about 40 cartons) of 30% postconsumer content copier paper saves the equivalent of 7.2 trees
Source: ConservaTree
Related Topics
Post-Consumer
Post-consumer content is an end product that has completed its life cycle as a consumer item and rather than being sent to the landfill, it is diverted by reusing the material in a new product. Examples of items that may include post-consumer content are office paper, cardboard, aluminum cans, plastics and metals. By recycling materials that have served their intended use, new products can be made. For example, a plastic bottle can become carpet backing by placing it in a recycling bin. It's just as important to purchase materials that contain recycled content as it is to recycle.
Whole Building Design Guide | Evaluating and Selecting Green Products
Recycling
Glass, plastic, aluminum, cardboard and paper (including glossy magazines, envelopes with plastic windows and sticky notes) can all be easily recycled. Depending on the waste hauler, recycling bins can include commingled waste (i.e. all materials are collected in one bin) or they may require separated waste (i.e. one bin for paper, one bin for plastics, etc). By recycling products, materials are sent back to the marketplace rather than to the landfill.
Case Study
Flexible Workplace Design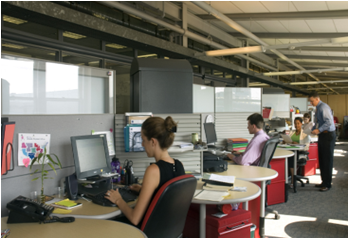 Today's workplaces are often in flux. Organizations change direction or develop new services. People move to new spaces and take on new responsibilities. Teams form and re-form. The spaces themselves are transformed to meet these new needs. These changes are much easier to accommodate, when the workplace design supports flexibility.
Share Your Story
Do you have a story to share? See and share examples of successes and struggles from our user community in Share