Recycling Bottles
Recycling a single plastic bottle can conserve enough energy to light a 60-watt bulb for up to 6 hours.
Source: Bureau of International Recycling
Related Topics
Recycling
Recycling is the process of collecting and processing materials (that would otherwise be thrown away as trash) and remanufacturing them into new products. Recycling support stations and the education of occupants and janitorial staff are the backbone of a successful waste diversion plan. Start by confirming with the recycling hauler and compost service what materials are acceptable and the proper collection method. Separate, color-coded, well-labeled and strategically placed recycling containers and waste receptacles make sorting and collection convenient and support occupant participation.
EPA | Recycling Basics

Did You Know?
Water use in commercial and institutional facilities, such as office buildings and hospitals, account for 17% of publicly-supplied water use in the U.S.
Source: EPA WaterSense

Reduce water use with SFTool
Case Study
Health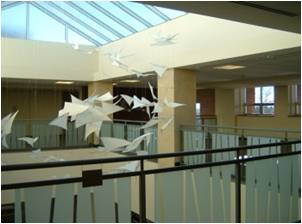 Good health has both physical and psychological components. Being healthy means the absence of disease and illness, as well as feeling positive about life and work. The workplace can play a role in the health of workers by eliminating risks and creating conditions that support cognitive, emotional, and social well-being.