Buildings' Water Use
Water use in commercial and institutional facilities, such as office buildings and hospitals, account for 17% of publicly-supplied water use in the U.S.
Source: EPA WaterSense

Reduce water use with SFTool
Related Topics
Guiding Principles for Sustainable Federal Buildings
The Guiding Principles for Sustainable Federal Buildings and Associated Instructions are a set of sustainable principles for integrated design, energy performance, water conservation, indoor environmental quality, materials, and resilience aimed at helping Federal agencies and organizations:
Reduce the total ownership cost of facilities
Improve energy efficiency and water conservation
Provide safe, healthy, and productive built environments
Promote sustainable environmental stewardship
Guiding Principles for Sustainable Federal Buildings and Associated Instructions
Water Consumption Intensity
Total water consumption per square foot of building space (e.g., kgal/sq-ft)
WaterSense
WaterSense, a partnership program of the U.S. Environmental Protection Agency (EPA), seeks to help consumers make smart water choices that save money and maintain high environmental standards without compromising performance. Independent, third-party licensed certifying bodies certify that products meet EPA criteria for water-efficiency and performance by following testing and certification protocols specific to each product category. Products and services that have earned the WaterSense label have been certified to be at least 20% more efficient without sacrificing performance.
Buying WaterSense products? View sample solicitation/contract language.
Visit Program Site: WaterSense

Did You Know?
Every ton (about 40 cartons) of 30% postconsumer content copier paper saves the equivalent of 7.2 trees
Source: ConservaTree

Case Study
Occupant Comfort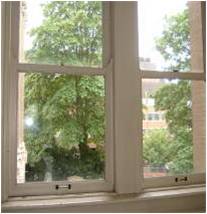 Comfortable workers are more likely to be productive and engaged with their work than those who struggle to work in spaces that create barriers and stresses. With an ever increasing number of environmental issues to be mindful of when designing spaces, GSA is developing practices that support both sustainability and worker comfort.