Water Consumption
Between 1950 and 2000, the U.S. population nearly doubled. However, in that same period, public demand for water more than tripled. Americans now use an average of 100 gallons of water each day—enough to fill 1,600 drinking glasses. Source: EPA WaterSense

Reduce water use with SFTool
Related Topics
Water Consumption Intensity
Total water consumption per square foot of building space (e.g., kgal/sq-ft)
WaterSense
WaterSense, a partnership program of the U.S. Environmental Protection Agency (EPA), seeks to help consumers make smart water choices that save money and maintain high environmental standards without compromising performance. Independent, third-party licensed certifying bodies certify that products meet EPA criteria for water-efficiency and performance by following testing and certification protocols specific to each product category. Products and services that have earned the WaterSense label have been certified to be at least 20% more efficient without sacrificing performance.
Buying WaterSense products? View sample solicitation/contract language.
Visit Program Site: WaterSense

Did You Know?
40% of U.S. architects, engineers, contractors, building owners and building consultants report that the majority of building work was green in 2012. It is expected that 53% of these U.S. firms will be engaged in mostly green building work by 2015. 44% of all nonresidential building project starts were green in 2012 as well, up from 2% in 2005. Green buildings hold strong appeal for both commercial and institutional (including government) owners.
Source: McGraw Hill Construction (2013). 2013 World Green Building Trends SmartMarket Report

.
Case Study
Occupant Comfort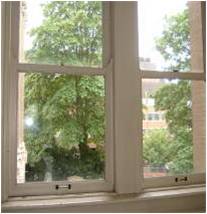 Comfortable workers are more likely to be productive and engaged with their work than those who struggle to work in spaces that create barriers and stresses. With an ever increasing number of environmental issues to be mindful of when designing spaces, GSA is developing practices that support both sustainability and worker comfort.