Water Consumption
Between 1950 and 2000, the U.S. population nearly doubled. However, in that same period, public demand for water more than tripled. Americans now use an average of 100 gallons of water each day—enough to fill 1,600 drinking glasses. Source: EPA WaterSense
Reduce water use with SFTool
Related Topics
Water Consumption Intensity
Total water consumption per square foot of building space (e.g., kgal/sq-ft)
WaterSense
WaterSense, a partnership program of the U.S. Environmental Protection Agency (EPA), seeks to help consumers make smart water choices that save money and maintain high environmental standards without compromising performance. Independent, third-party licensed certifying bodies certify that products meet EPA criteria for water-efficiency and performance by following testing and certification protocols specific to each product category. Products and services that have earned the WaterSense label have been certified to be at least 20% more efficient without sacrificing performance.
Buying WaterSense products? View sample solicitation/contract language.
Visit Program Site: WaterSense
Did You Know?
Buildings represent about 76% of electricity use and 40% of U.S. primary energy use, making it essential to reduce energy consumption to reduce costs to building owners and tenants. Source: U.S. Department of Energy (2015). Quadrennial Technology Review 2015, Chapter 5.
Case Study
The Workplace Environment as a Catalyst for Social Change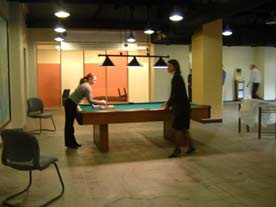 We know workplace design can influence functional behaviors, but can it be a catalyst for social change? Can organizations use the environment to improve the sense of community, increase morale, reduce stress, and develop cross group relationships?
Share Your Story
Do you have a story to share? See and share examples of successes and struggles from our user community in Share