Buildings' Energy Use
Buildings represent about 76% of electricity use and 40% of U.S. primary energy use, making it essential to reduce energy consumption to reduce costs to building owners and tenants. Source: U.S. Department of Energy (2015). Quadrennial Technology Review 2015, Chapter 5.
Related Topics
Energy Intensity
The energy consumption per square foot of building space, including industrial or laboratory facilitities (e.g., kWh/sq-ft)
Energy Performance
Assessing a building's energy performance involves comparing its energy use to that of peers or a standard. The ENERGY STAR program provides recognized benchmarks for assessing a building's energy performance.
Guiding Principles
The Guiding Principles for Sustainable Federal Buildings are a set of sustainable principles for integrated design, energy performance, water conservation, indoor environmental quality, materials, and climate change adaptation aimed at helping Federal agencies and organizations:
Reduce the total ownership cost of facilities
Improve energy efficiency and water conservation
Provide safe, healthy, and productive built environments
Promote sustainable environmental stewardship
Guiding Principles for Sustainable Federal Buildings and Associated Instructions
Determining Compliance with the Guiding Principles for Sustainable Federal Buildings
Did You Know?
Water use in commercial and institutional facilities, such as office buildings and hospitals, account for 17% of publicly-supplied water use in the U.S.
Source: EPA WaterSense
Reduce water use with SFTool
Case Study
Sense of Place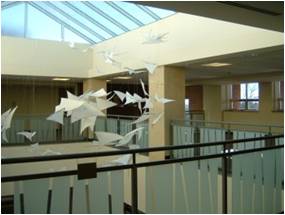 What makes a workplace special? What fosters a sense of attachment, engagement and identity? These are the kinds of questions that underlie the sense of place. The workplace is increasingly seen as a "brand" that conveys not only a place, but also the mission and values of the organization. The GSA workplace program combines branding and sense of place with sustainable approaches to create special places imbued with meaning and purpose.
Share Your Story
Do you have a story to share? See and share examples of successes and struggles from our user community in Share