Buildings' Energy Use
Buildings represent 40% of U.S. primary energy use (includes fuel input for production). Source: Environmental Information Administration (2014). EIA Annual Energy Outlook.
Related Topics
Energy Intensity
The energy consumption per square foot of building space, including industrial or laboratory facilitities (e.g., kWh/sq-ft)
Energy Performance
Assessing a building's energy performance involves comparing its energy use to that of peers or a standard. The ENERGY STAR program provides recognized benchmarks for assessing a building's energy performance.
Guiding Principles
The Guiding Principles for Sustainable Federal Buildings are a set of sustainable principles for integrated design, energy performance, water conservation, indoor environmental quality, materials, and climate change adaptation aimed at helping Federal agencies and organizations:
Reduce the total ownership cost of facilities
Improve energy efficiency and water conservation
Provide safe, healthy, and productive built environments
Promote sustainable environmental stewardship
Guiding Principles for Sustainable Federal Buildings and Associated Instructions
Determining Compliance with the Guiding Principles for Sustainable Federal Buildings
Did You Know?
LED costs are declining rapidly. LED package prices declined to approximately $1/klm by 2016, resulting in dramatically reduced LED lamp and luminaire prices.
Case Study
Occupant Comfort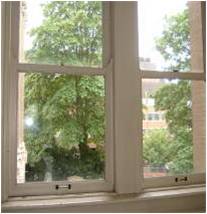 Comfortable workers are more likely to be productive and engaged with their work than those who struggle to work in spaces that create barriers and stresses. With an ever increasing number of environmental issues to be mindful of when designing spaces, GSA is developing practices that support both sustainability and worker comfort.
Share Your Story
Do you have a story to share? See and share examples of successes and struggles from our user community in Share