Buildings' Energy Use
Buildings represent 40% of U.S. primary energy use (includes fuel input for production). Source: Environmental Information Administration (2014). EIA Annual Energy Outlook.
Related Topics
Energy Intensity
The energy consumption per square foot of building space, including industrial or laboratory facilitities (e.g., kWh/sq-ft)
Energy Performance
Assessing a building's energy performance involves comparing its energy use to that of peers or a standard. The ENERGY STAR program provides recognized benchmarks for assessing a building's energy performance.
Guiding Principles
The Guiding Principles for Sustainable Federal Buildings are a set of sustainable principles for integrated design, energy performance, water conservation, indoor environmental quality, materials, and climate change adaptation aimed at helping Federal agencies and organizations:
Reduce the total ownership cost of facilities
Improve energy efficiency and water conservation
Provide safe, healthy, and productive built environments
Promote sustainable environmental stewardship
Guiding Principles for Sustainable Federal Buildings and Associated Instructions
Determining Compliance with the Guiding Principles for Sustainable Federal Buildings
Did You Know?
40% of U.S. architects, engineers, contractors, building owners and building consultants report that the majority of building work was green in 2012. It is expected that 53% of these U.S. firms will be engaged in mostly green building work by 2015. 44% of all nonresidential building project starts were green in 2012 as well, up from 2% in 2005. Green buildings hold strong appeal for both commercial and institutional (including government) owners.
Source: McGraw Hill Construction (2013). 2013 World Green Building Trends SmartMarket Report.
Case Study
Spatial Equity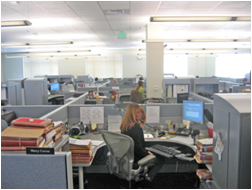 Organizations today are less hierarchical and work is more team based, more mobile, and more cross functional. A key to spatial equity is that space layout and workstation standards are based on new ways of working and specific work tasks and business needs rather than organizational hierarchy.
Share Your Story
Do you have a story to share? See and share examples of successes and struggles from our user community in Share