High-Performance Buildings Marketplace
40% of U.S. architects, engineers, contractors, building owners and building consultants report that the majority of building work was green in 2012. It is expected that 53% of these U.S. firms will be engaged in mostly green building work by 2015. 44% of all nonresidential building project starts were green in 2012 as well, up from 2% in 2005. Green buildings hold strong appeal for both commercial and institutional (including government) owners.
Source: McGraw Hill Construction (2013). 2013 World Green Building Trends SmartMarket Report

.
Related Topics
Green Building
High-performance buildings exhibit environmentally responsible intent and perform in a resource efficient manner. They meet the needs of the occupants that live and work in them in a way that minimizes demand for natural resources and reduces or eliminates waste. High-performance buildings save energy, water, materials, protect the indoor environment and are designed to evolve as occupant needs change. Such buildings are generally more comfortable, healthy, durable and adaptable over time.
Did You Know?
Indoor contaminants such as dust mites, molds, cockroaches, pet dander, secondhand smoke and some chemicals can trigger asthma attacks. One in 11 children and one in 12 adults suffer from asthma.
Source: Asthma's Impact on the Nation (2012): Data from the CDC National Asthma Control Program

Improve IEQ with SFTool
Case Study
Flexible Workplace Design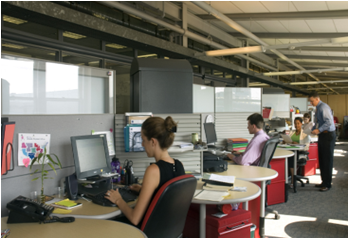 Today's workplaces are often in flux. Organizations change direction or develop new services. People move to new spaces and take on new responsibilities. Teams form and re-form. The spaces themselves are transformed to meet these new needs. These changes are much easier to accommodate, when the workplace design supports flexibility.