Federal Requirements
Laws
Executive Orders
Guiding Principles
Regulations
Did You Know?
The U.S. generated approximately 251 million tons of municipal solid waste (MSW) in 2012. Almost 87 million tons were recycled and composted, which represents a 34.5% recycling rate. Solid waste generated per capita is the lowest since the 1980s. This is a 3 percent increase in the tons recycled.
Source: US EPA, Municipal Solid Waste Generation, Recycling, and Disposal in the United States: Facts and Figures for 2012

.
Reduce facility waste with SFTool
Case Study
Sense of Place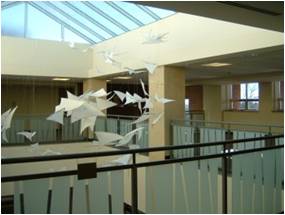 What makes a workplace special? What fosters a sense of attachment, engagement and identity? These are the kinds of questions that underlie the sense of place. The workplace is increasingly seen as a "brand" that conveys not only a place, but also the mission and values of the organization. The GSA workplace program combines branding and sense of place with sustainable approaches to create special places imbued with meaning and purpose.