Federal Requirements
Hot Annotations
Executive Order 13834:
Efficient Federal Operations
Laws
Energy Independence and Security Act (EISA)
The stated purpose of the act is "to move the United States toward greater energy independence and security, to increase the production of clean renewable fuels, to protect consumers, to increase the efficiency of products, buildings, and vehicles, to promote research on and deploy greenhouse gas capture and storage options, and to improve the energy performance of the Federal Government, and for other purposes."
Energy Policy Act of 1992 (EPAct 1992)
The Energy Policy Act of 1992 established several energy management goals, as well as requirements for water and fleet fuel management.
Energy Policy Act of 2005 (EPAct 2005)
The Energy Policy Act of 2005 established a number of energy management goals for Federal facilities and fleets.
Executive Orders
Executive Order 13834
E.O. 13834, Efficient Federal Operations, was signed on May 17, 2018. It revised guidance on federal building operations and superseded previous Executive Orders.
View Order
Guiding Principles
Regulations
Energy Efficiency Standard for Federal Buildings
10 CFR Part 433 is the energy efficiency standard for federal commercial and multi-family high-rise residential buildings and Part 435 is the standard for low-rise residential buildings. A final rule passed on July 9, 2013 updates the baseline Federal commercial standard to ASHRAE Std 90.1-2010. View Rule
Federal Energy Management and Planning
10 CFR Part 436 establishes the rules and objectives for Federal energy management and planning programs to promote life cycle cost effective investments in building energy systems, building water systems and energy and water conservation measures for Federal buildings. View Rule
Federal Acquisition Regulation (FAR)
The Federal Acquisition Regulation governs how all government agencies are to make procurements. Specifically, Subchapter D Part 23 dictates how the sustainability aspect of those purchases must be made.
Did You Know?
People in the U.S. spend about 90% of their time indoors.
Source: Environmental Protection Agency (1987). The Total Exposure Assessment Methodology (TEAM) Study.
Case Study
Flexible Workplace Design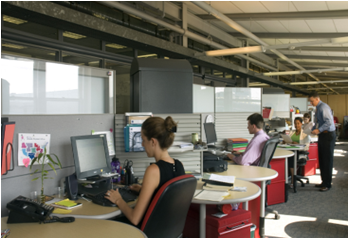 Today's workplaces are often in flux. Organizations change direction or develop new services. People move to new spaces and take on new responsibilities. Teams form and re-form. The spaces themselves are transformed to meet these new needs. These changes are much easier to accommodate, when the workplace design supports flexibility.