Federal Requirements
Hot Annotations
Laws
Executive Orders
Guiding Principles
Regulations
Did You Know?
Between 1950 and 2000, the U.S. population nearly doubled. However, in that same period, public demand for water more than tripled. Americans now use an average of 100 gallons of water each day—enough to fill 1,600 drinking glasses. Source: EPA WaterSense

Reduce water use with SFTool
Case Study
Spatial Equity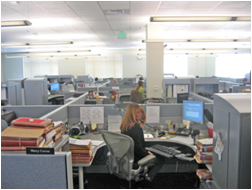 Organizations today are less hierarchical and work is more team based, more mobile, and more cross functional. A key to spatial equity is that space layout and workstation standards are based on new ways of working and specific work tasks and business needs rather than organizational hierarchy.