Federal Requirements
Hot Annotations
Laws
Executive Orders
Guiding Principles
Regulations
Did You Know?
LED prices have dropped rapidly in recent years. They are now more lifecycle cost effective than fluorescents in every lighting application.
Source: U.S. Department of Energy, Sept 2017, SSL 2017 Suggested Research Topics Supplement, Technology and Market Context

Learn more about lighting on SFTool
Case Study
Spatial Equity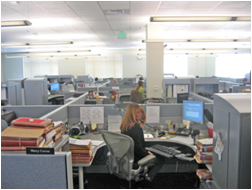 Organizations today are less hierarchical and work is more team based, more mobile, and more cross functional. A key to spatial equity is that space layout and workstation standards are based on new ways of working and specific work tasks and business needs rather than organizational hierarchy.