Plastic Lumber Landscaping Timber and Posts
Last Updated: 09/30/19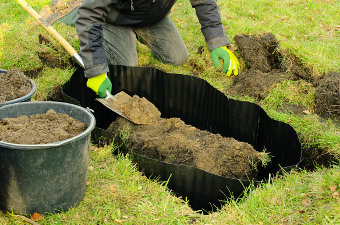 Landscaping timbers and posts are used as raised beds, retaining walls, and terracing. Plastic lumber landscaping timbers and posts are used in urban plazas, zoos, and outside office buildings-in fact, the National Park Service alone has more than a dozen projects planned with these recycled-content products. Timbers and posts manufactured with plastic or composite (plastic mixed with wood or fiberglass) lumber give new life to recovered wood and plastic materials such as milk jugs and plastic bags.
Product Details
Federal agencies are required by statute to purchase products as designated or specified under this program.
Federal agencies are required to purchase sustainable products and services meeting EPA's Recommendations to the maximum extent practicable.
Procurement Info

Where to Buy

(95-100% other mixed recovered resins including 50-100% postconsumer content)
(100% recovered mixed plastics/sawdust including 50% postconsumer content)

(75-100% recovered high density polyethylene including 25-100% postconsumer content)

(95% recovered high density polyethylene/fiberglass including 75% postconsumer content)
Legal Requirements

Lists federal requirements related to the purchase of this item, including applicable Federal Acquisition Regulation (FAR) requirements
Guiding Principles
Contributes to meeting The Guiding Principles for Sustainable Federal Buildings
Additional Guidance
Potential LEED Contributions
This product may contribute* toward points in multiple LEED v4 rating systems, including areas required for LEED v4 building certification. Primarily, the credits will apply in the Building Design and Construction (BD+C) and Building Operations and Maintenance (O+M) categories. This includes the specialty areas of: New Construction and Major Renovation, Existing Buildings, Core & Shell, Schools, Retail, Data Centers, Warehouse and Distribution Centers, Hospitality, and Healthcare. Specific credits are:
Sustainable Sites - Rainwater Management
* It is important to note that no products, individually or collectively, can guarantee a specific number of points for LEED Category credit. Each credit will need to be matched to the product by a certified professional.