Hoses
Last Updated: 09/19/17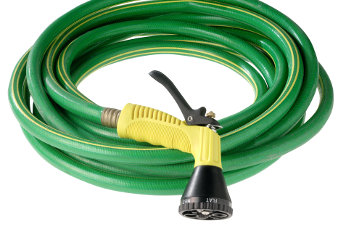 A hose conducts water through its tubing to a specific location using a nozzle, while a soaker hose is perforated tubing that gently irrigates gardens or planted areas. Recovered-content garden and soaker hoses help create new uses for old tires and recycled plastics. EPA's designation specifically covers garden and soaker hoses containing recovered plastic or rubber.
Product Details
Federal agencies are required by statute to purchase products as designated or specified under this program.
Federal agencies are required to purchase sustainable products and services meeting EPA's Recommendations to the maximum extent practicable.
| Product Type | Procurement Info | Where to Buy |
| --- | --- | --- |
| Garden Hose | (60-65% postconsumer rubber and/or plastic) | |
| Soaker Hose | (60-70% postconsumer rubber and/or plastic) | |
Legal Requirements

Lists federal requirements related to the purchase of this item, including applicable Federal Acquisition Regulation (FAR) requirements
Guiding Principles
Contributes to meeting The Guiding Principles for Sustainable Federal Buildings