Cleaning Solvents
Last Updated: 09/30/19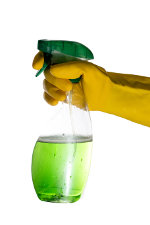 Cleaning solvents are used to remove oil, grease, solder flux, and other contaminants.
Product Details
Federal agencies are required by statute to purchase products as designated or specified under this program.
Federal agencies are required to purchase sustainable products and services meeting EPA's Recommendations to the maximum extent practicable.
| Product Type | Procurement Info | Where to Buy |
| --- | --- | --- |
| Electronics Cleaning | | |
| Metal Cleaning | | |
| Precision cleaning | | |
Legal Requirements

Lists federal requirements related to the purchase of this item, including applicable Federal Acquisition Regulation (FAR) requirements
Additional Guidance
Note that additional sustainable acquisition requirements apply to products considered to be Electronic Components Cleaners or Metal Cleaners and Corrosion Removers. Visit the appropriate product entry for details.
Potential LEED Contributions
This product may contribute* toward points in multiple LEED v4 rating systems, including areas required for LEED v4 building certification. Primarily, the credits will apply in the Building Operations and Maintenance (O+M) category. Specific credits are:
Indoor Environmental Quality

Green Cleaning Equipment
Green Cleaning Products & Materials
Low-Emitting Materials
* It is important to note that no products, individually or collectively, can guarantee a specific number of points for LEED Category credit. Each credit will need to be matched to the product by a certified professional.
Related Workspaces

Head to the explore section of SFTool to view related workspaces