Chillers
Last Updated: 06/18/20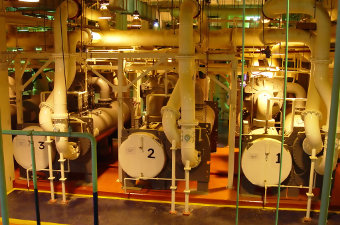 Chillers typically cool water, which is then circulated to provide comfort cooling throughout a building or other location. Chillers can be classified by compressor type, including centrifugal, reciprocating, screw, and scroll.
Product Details
Federal agencies are required by statute to purchase products as designated or specified under this program.
Federal agencies are required to purchase sustainable products and services meeting EPA's Recommendations to the maximum extent practicable.
| Product Type | Procurement Info | Where to Buy |
| --- | --- | --- |
| Air-Cooled Chillers | | |
| Water-Cooled Chillers | | |
| Refrigerants | | |
| Variable-Speed Magnetic Levitation Chiller Compressor | | |
Legal Requirements

Lists federal requirements related to the purchase of this item, including applicable Federal Acquisition Regulation (FAR) requirements
Life Cycle Cost Savings
Life Cycle Costing (LCC) aims to quantify the financial impact of a product over its entire life cycle to assist consumers in making decisions that will save them money over the long term.
For most applications, energy-efficient electric chillers have the lowest life-cycle cost. For example, FEMP has estimated that a 200-ton air-cooled electric chiller meeting FEMP minimum efficiency requirements can save a typical federal user $59,861 in energy costs over the life of the unit, while a "best available" model could save even more: $159,202. Similar savings apply for both cetrifugal and positive-displacement type water-cooled chillers.
An efficient product is cost effective when the utility costs saved over the life of the product exceed the additional upfront cost (if any) of the more efficient model. Federal purchasers may assume that Energy Star-qualified products and products meeting FEMP-designated efficiency requirements are life-cycle cost effective. However, users wishing to determine cost effectiveness for their application may do so using the cost effectiveness examples on FEMP's product web pages.
GSA's Proving Ground found that variable-speed magnetic levitaton chillers (maglev) are 35% more efficient than FEMP-designated high-efficiency rotary screw chillers. They can acnieve a 42% energy savings and have a payback of 5 years or less, after normalizing for payment structure and utility costs.
Guiding Principles
Contributes to meeting The Guiding Principles for Sustainable Federal Buildings
Additional Guidance
Substitutes for ozone-depleting chemicals, as identified under the SNAP program, may be purchased with the product itself or separately. In either case, federal agencies must procure and substitute safe alternatives for ozone-depleting substances to the maximum extent practicable.
Potential LEED Contributions
This product may contribute* toward points in multiple LEED v4 rating systems, including areas required for LEED v4 building certification. Primarily, the credits will apply in the Building Design and Construction (BD+C) and Building Operations and Maintenance (O+M) categories. This includes the specialty areas of: New Construction and Major Renovation, Existing Buildings, Core & Shell, Schools, Retail, Data Centers, Warehouse and Distribution Centers, Hospitality, and Healthcare. Specific credits are:
Energy & Atmosphere

Optimize Energy Performance
Enhanced Refrigerant Management
* It is important to note that no products, individually or collectively, can guarantee a specific number of points for LEED Category credit. Each credit will need to be matched to the product by a certified professional.