Light Commercial Heating and Cooling
Last Updated: 09/30/19

Click to see brand name products that meet these requirements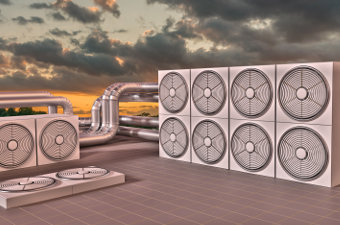 A unit of commercial package airconditioning and heating equipment that is configured as a split system air conditioner incorporating a single refrigerant circuit, with one or more outdoor units, at least one variable speed compressor or an alternate compressor combination for varying the capacity of the system by three or more steps, and multiple indoor fan coil units, each of which is individually metered and individually controlled by an integral control device and common communications network and which can operate independently in response to multiple indoor thermostats. Variable refrigerant flow implies three or more steps of capacity control on common, inter-connecting piping.
Product Details
Federal agencies are required by statute to purchase products as designated or specified under this program.
Federal agencies are required to purchase sustainable products and services meeting EPA's Recommendations to the maximum extent practicable.
| Procurement Info | Where to Buy |
| --- | --- |
| | |
Legal Requirements

Lists federal requirements related to the purchase of this item, including applicable Federal Acquisition Regulation (FAR) requirements
Life Cycle Cost Savings
Life Cycle Costing (LCC) aims to quantify the financial impact of a product over its entire life cycle to assist consumers in making decisions that will save them money over the long term.
For most applications, energy-efficient light commercial heating and cooling units have the lowest life-cycle cost. For example, FEMP has estimated that an Energy Star-qualified comercial central air conditioning unit can save a typical federal user $735 in energy costs over the life of the unit, while a "best available" model could save even more: $1,785.
An efficient product is cost effective when the energy costs saved over the life of the product exceed the additional upfront cost (if any) of the more efficient model. Federal purchasers may assume that Energy Star-qualified products and products meeting FEMP-designated efficiency requirements are life-cycle cost effective.
Guiding Principles
Contributes to meeting The Guiding Principles for Sustainable Federal Buildings
Additional Guidance
The effective date for version 3.1 ENERGY STAR Light Commercial HVAC specification is January 1, 2018.
The specification includes air-cooled, three-phase, split system (i.e., any central air conditioner or central air-conditioning heat pump in which one or more of the major assemblies are separate from the others) and single package (i.e., any central air conditioner or central air-conditioning heat pump in which all the major assemblies are enclosed in one cabinet) central air conditioners, heat pumps, gas/electric package units, and variable refrigerant flow (VRF) multi-split systems with capacity rated at or above 65,000 Btu/h and below 240,000 Btu/h.
The specification excludes water-cooled, evaporatively-cooled, and water source commercial products are not eligible under this specification. Products with cooling capacity ratings below 65,000 Btu/h and products covered by other ENERGY STAR specifications are not eligible under this specification. Note that single-phase products below 65,000 Btu/h may be certified as ENERGY STAR under the CAC/ASHP specification.
In June of 2016, the Federal Energy Management Program updated its guidance for purchasing energy-efficient light commercial heating and cooling equipment.
Potential LEED Contributions
This product may contribute* toward points in multiple LEED v4 rating systems, including areas required for LEED v4 building certification. Primarily, the credits will apply in the Building Design and Construction (BD+C) and Building Operations and Maintenance (O+M) categories. This includes the specialty areas of: New Construction and Major Renovation, Existing Buildings, Core & Shell, Schools, Retail, Data Centers, Warehouse and Distribution Centers, Hospitality, and Healthcare. Specific credits are:
Energy & Atmosphere

Optimize Energy Performance
Enhanced Refrigerant Management
* It is important to note that no products, individually or collectively, can guarantee a specific number of points for LEED Category credit. Each credit will need to be matched to the product by a certified professional.