Commercial Coffee Brewers
Last Updated: 09/02/19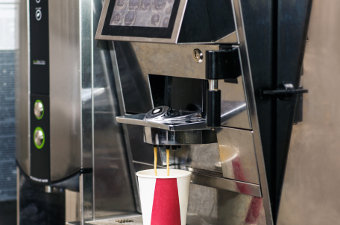 Commercial appliances designed to heat water and brew coffee.
Product Details
Federal agencies are required to purchase products as designated or specified under this program
| Procurement Info | Where to Buy |
| --- | --- |
| | |
Legal Requirements

Lists federal requirements related to the purchase of this item, including applicable Federal Acquisition Regulation (FAR) requirements
Life Cycle Cost Savings
Life Cycle Costing (LCC) aims to quantify the financial impact of a product over its entire life cycle to assist consumers in making decisions that will save them money over the long term.
Batch commercial coffee brewers that meet the Version 1.0 performance requirements offer end users as much as 35% in energy savings and about $100 per year when compared to conventional models. If all Type II batch commercial coffee brewers sold in the United States were ENERGY STAR certified, the energy cost savings would grow to more than $41 million each year and more than 700 million pounds of annual greenhouse gas emissions would be prevented, equivalent to the emissions from nearly 70,000 vehicles.
Guiding Principles
Contributes to meeting The Guiding Principles for High Performance and Sustainable Buildings
Additional Guidance
The version 1.0 Energy Star specification for commercial coffee brewers is effective as of July 8, 2016. It is intended for commercial coffee brewers, although EPA expects to expand the scope of this specification to include other types of commercial coffee brewers (e.g., single-cup brewers and espresso machines) once information about their energy use becomes available. This specification excludes products designed for residential applications. In addition, the following commercial coffee brewers are ineligible for ENERGY STAR:
a. Bean-to-Cup Brewers
b. Liquid Coffee Dispensers
c. Powdered Coffee Dispenser
d. Espresso Machines
e. Urn Brewers
Related Workspaces

Head to the explore section of SFTool to view related workspaces