Playground Equipment
Last Updated: 09/19/17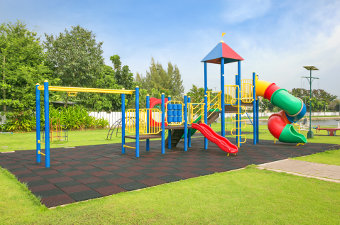 Slides, swings, climbing equipment, merry-go-rounds, and seesaws are all different types of playground equipment. These items can be made with recovered wood, steel, aluminum, HDPE, LDPE, LLDPE and PP. A typical set of playground equipment made with recovered-content plastic lumber can contain plastic recovered from between 31,500 and 63,000 milk and water jugs.
Product Details
Federal agencies are required by statute to purchase products as designated or specified under this program.
Federal agencies are required to purchase sustainable products and services meeting EPA's Recommendations to the maximum extent practicable.
| Product Type | Procurement Info | Where to Buy |
| --- | --- | --- |
| Plastics | (100% recovered plastic, including 90-100% postconsumer content) | |
| Plastic Composites | (95-100% recovered plastic composites, including 50-75% postconsumer content) | |
| Steel | | |
| Aluminum | (25% recovered aluminum, including 25% postconsumer content) | |
Legal Requirements

Lists federal requirements related to the purchase of this item, including applicable Federal Acquisition Regulation (FAR) requirements
Guiding Principles
Contributes to meeting The Guiding Principles for Sustainable Federal Buildings