Roofing Materials
Last Updated: 09/30/19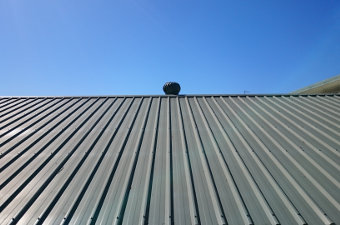 A building's roof system and its finished roofing materials shield a structure's interior from natural elements. Roofing systems generally fall into two general categories: 1) high-sloped or "pitched" roofs (residential) and 2) low-sloped or flat roofs (commercial). These two types of systems generally are constructed differently and use different materials, although some materials are used for both residential and commercial systems. EPA's designation specifically covers roofing materials containing steel, aluminum, fiber, rubber, plastic or plastic composites, and cement.
Product Details
Federal agencies are required by statute to purchase products as designated or specified under this program.
Federal agencies are required to purchase sustainable products and services meeting EPA's Recommendations to the maximum extent practicable.
| Product Type | Procurement Info | Where to Buy |
| --- | --- | --- |
| Aluminum | (20-90% recovered aluminum; including 20-90% postconsumer content) | |
| Concrete | (See EPA guidance at www.epa.gov/cpg) | |
| Fiber | (50-100% recovered fiber or fiber composite; including 50-100% postconsumer content) | |
| Plastic/Composites | (100% postconsumer plastic or plastic/rubber composite) | |
| Rubber | (100% recovered rubber; including 12-100% postconsumer content) | |
| Steel | (See EPA guidance at www.epa.gov/cpg) | |
| Wood/Composites | (100% recovered wood/plastic composite) | |
Legal Requirements

Lists federal requirements related to the purchase of this item, including applicable Federal Acquisition Regulation (FAR) requirements
Life Cycle Cost Savings
Life Cycle Costing (LCC) aims to quantify the financial impact of a product over its entire life cycle to assist consumers in making decisions that will save them money over the long term.
GSA's Proving Ground found an 8 - 10% energy savings for vacuum insulated roofing panels, compared to code-compliant roofs. Savings for R-50 panels can be greatest in single-story buildings in extreme climates, such as those found in Alaska (subartic) or Arizona (hot-humid). GPG recommends deploying vacuum insulated panels where R-50 is required and installing conventional insulation necessitates costly alterations.
Guiding Principles
Contributes to meeting The Guiding Principles for Sustainable Federal Buildings
Additional Guidance
Potential LEED Contributions
This product may contribute* toward points in multiple LEED v4 rating systems, including areas required for LEED v4 building certification. Primarily, the credits will apply in the Building Design and Construction (BD+C) and Building Operations and Maintenance (O+M) categories. This includes the specialty areas of: New Construction and Major Renovation, Existing Buildings, Core & Shell, Schools, Retail, Data Centers, Warehouse and Distribution Centers, Hospitality, and Healthcare. Specific credits are:
Energy & Atmosphere - Optimize Energy Performance
Materials & Resources - Building Product Disclosure & Optimization

Environmental Product Declarations
Sourcing of Raw Materials
Material Ingredients
* It is important to note that no products, individually or collectively, can guarantee a specific number of points for LEED Category credit. Each credit will need to be matched to the product by a certified professional.