Fluorescent Luminaires
Last Updated: 08/26/23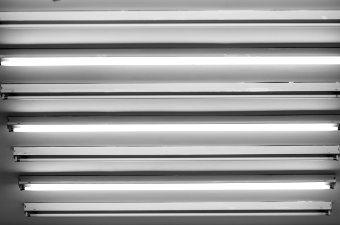 A complete lighting unit consisting of lamp(s) and ballast(s) (when applicable) together with the parts designed to distribute the light, position and protect the lamps, and to connect the lamp(s) to the power supply
Product Details
Federal agencies are required by statute to purchase products as designated or specified under this program.
Federal agencies are required to purchase sustainable products and services meeting EPA's Recommendations to the maximum extent practicable.
| Procurement Info | Where to Buy |
| --- | --- |
| | |
Legal Requirements

Lists federal requirements related to the purchase of this item, including applicable Federal Acquisition Regulation (FAR) requirements
Life Cycle Cost Savings
Life Cycle Costing (LCC) aims to quantify the financial impact of a product over its entire life cycle to assist consumers in making decisions that will save them money over the long term.
For most applications, energy efficient fluorescent luminaires have the lowest life-cycle cost. For example, FEMP has estimated that an installation of 100 recessed lensed 2-by-4-foot luminaires each using three F32T8 lamps could save the typical federal agency $4,300 in energy costs over the life of the luminaries, by using luminaires with FEMP-designated efficiency levels as compared to a less efficient model. The estimated savings for "best available" luminaires is even larger: $8,600 per 100 luminaires over the life of the installation.
An efficient product is cost effective when the energy costs saved over the life of the product exceed the additional upfront cost (if any) of the more efficient model. Federal purchasers may assume that Energy Star-qualified products and products meeting FEMP-designated efficiency requirements are life-cycle cost effective.
To calculate life cycle cost savings, explore these tools:
On its Purchasing & Procurement page, Energy Star offers MS-Excel-based calculators to estimate how much money and energy you can save purchasing ENERGY STAR fluorescent luminaries.
NREL's Levelized Cost of Energy Calculator can help estimate the cost of electricity as an input for your lifecycle cost calculations, accounting for both cost escalation and discount rates.
Guiding Principles
Contributes to meeting The Guiding Principles for Sustainable Federal Buildings
Additional Guidance
FEMP energy efficiency requirements for fluorescent luminaires used in commercial and institutional buildings include requirements for ceiling mounted luminaires and suspended luminaires. Specialized luminaires, like recessed linear and round wall washers, are excluded. Residential fixtures are covered by Energy Star specifications.
Potential LEED Contributions
This product may contribute* toward points in multiple LEED v4 rating systems, including areas required for LEED v4 building certification. Primarily, the credits will apply in the Building Design and Construction (BD+C) and Building Operations and Maintenance (O+M) categories. This includes the specialty areas of: New Construction and Major Renovation, Existing Buildings, Core & Shell, Schools, Retail, Data Centers, Warehouse and Distribution Centers, Hospitality, and Healthcare. Specific credits are:
Energy & Atmosphere - Optimize Energy Performance
Indoor Environmental Quality - Interior Lighting
Sustainable Sites - Light Pollution Reduction
* It is important to note that no products, individually or collectively, can guarantee a specific number of points for LEED Category credit. Each credit will need to be matched to the product by a certified professional.
Related Workspaces

Head to the explore section of SFTool to view related workspaces