You Can Get Free Continuing Education Playing Green the Building
You can get one hour's worth of continuing education / professional development by playing the SFTool game, Green the Building and achieving the target score of 4000 points. This should take you about an hour, but may take more or less time depending on what you learn and the decisions you make during the game.
Green the Building is approved by the Green Business Certification Institute (GBCI) for credit toward the continuing education requirements for the US Green Building Council's (USGBC) credentials including the LEED AP. Playing Green the Building may also count as self-directed learning for other professional certifications. Check with your certifying body for more information.
Visit this page to learn how to report your hour of conitinuing education.
Did You Know?
GSA has expanded our SFTool with a Product Search that streamlines sustainable product procurement for vendors and buyers.
Case Study
Health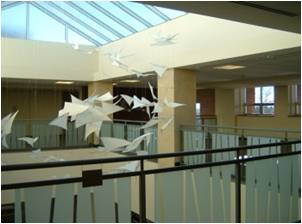 Good health has both physical and psychological components. Being healthy means the absence of disease and illness, as well as feeling positive about life and work. The workplace can play a role in the health of workers by eliminating risks and creating conditions that support cognitive, emotional, and social well-being.
Share Your Story
Do you have a story to share? See and share examples of successes and struggles from our user community in Share