Cooler, Indirect Evaporative
Last Updated: 09/30/19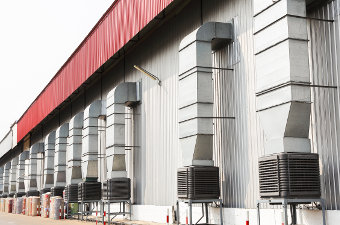 Multi-staged indirect evaporative coolers (IEC) use a unique air-processing technology that delivers space conditioning using only a fraction of the energy consumed by mechanical air conditioners
Product Details
| Procurement Info | Where to Buy |
| --- | --- |
| | |
Life Cycle Cost Savings
Life Cycle Costing (LCC) aims to quantify the financial impact of a product over its entire life cycle to assist consumers in making decisions that will save them money over the long term.
GSA's Proving Ground found that indirect evaporative coolers can achieve an 80% energy savings. Payback is less than 15 years on average, for data centers. These units are 57 - 92% more efficient than code-compliant roof-top units.
Guiding Principles
Contributes to meeting The Guiding Principles for Sustainable Federal Buildings
Additional Guidance
These units are particularly appropriate for dry climate zones (data centers in ASHRAE climate zones 2B - 6B) found in the Western United States. The Green Proving Ground recommends deploying indirect evaporative coolers as follows:
Data centers (retrofit and new construction) -- ASHRAE climate zones 2B - 6B
Outside air pre-conditioner (retrofit): ASHRAE climate zones 2B, 3B
Zone cooler (retrofit and new construction): AHSRAE climate zoones 4B - 6B
Potential LEED Contributions
This product may contribute* toward points in multiple LEED v4 rating systems, including areas required for LEED v4 building certification. Primarily, the credits will apply in the Building Design and Construction (BD+C) and Building Operations and Maintenance (O+M) categories. This includes the specialty areas of: New Construction and Major Renovation, Existing Buildings, Core & Shell, Schools, Retail, Data Centers, Warehouse and Distribution Centers, Hospitality, and Healthcare. Specific credits are:
Energy & Atmosphere - Optimize Energy Performance
Water Efficiency - Indoor Water Use Reduction
* It is important to note that no products, individually or collectively, can guarantee a specific number of points for LEED Category credit. Each credit will need to be matched to the product by a certified professional.