Ventilation Fan Belts, Synchronous and Cogged
Last Updated: 09/02/19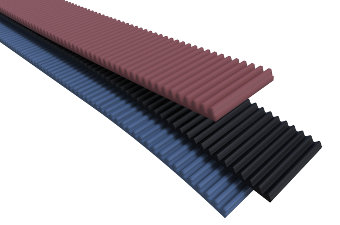 A ventilation fan belt is a belt, driven by the crankshaft of an engine, that turns a fan for drawing cooling air through the radiator. Synchronous drive belts are designed to reduce both belt slippage and frictional losses. Cogged V-belts are designed to reduce the bending resistance as the belt travels around the sheave (pulley) and have less frictional losses than standard V-belts.
Product Details
Life Cycle Cost Savings
Life Cycle Costing (LCC) aims to quantify the financial impact of a product over its entire life cycle to assist consumers in making decisions that will save them money over the long term.
GSA's Proving Ground found that the use of cogged V-belts and synchronous-drive fan belts are a low-investment way to reduce the inefficiencies in ventilation fans caused by bel slippage and bending resistance. GPG found an energy savings of 2 - 20% for synchronous belts, with about half that savings for cogged fan belts. Payback is between 1 and 4 years, depending on the type of fan belt.
Guiding Principles
Contributes to meeting The Guiding Principles for High Performance and Sustainable Buildings
Additional Guidance
GSA's Green Proving Ground recommends replacing V-belts with synchronous drive belts on all variable air volume (VAV) fans. On constant volume (CV) fans, belts should be replaced at end-of-life with cogged V-belts.