LED Downlight Lamps for CFL Fixtures
Last Updated: 09/19/17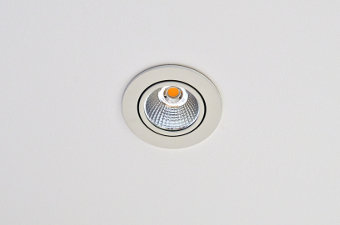 A small direct lighting unit that directs the light downward and can be recessed, surface mounted, or suspended and can be fitted to CFL fixtures.
Product Details
Legal Requirements

Lists federal requirements related to the purchase of this item, including applicable Federal Acquisition Regulation (FAR) requirements
Life Cycle Cost Savings
Pacific Northwest National Laboratory (PNNL) evaluated an LED replacement lamp that uses the same four-pin socket and electronic ballast as an incumbent CFL. Results showed energy savings between 40-50%, matching light levels and quality and payback under 3 years at the national average utility rate.
Guiding Principles
Contributes to meeting The Guiding Principles for High Performance and Sustainable Buildings
Additional Guidance
The GSA Proving Ground's report provides three LED replacement options, considering compatibility and controls. https://www.gsa.gov/portal/content/128998