Wireless Advanced Lighting Controls
Last Updated: 08/26/23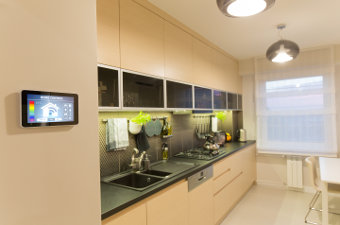 This technology enables switches, ballasts, fixtures, and sensors from a variety of manufacturers to communicate as a single system by using wireless area controllers.
Product Details
| Procurement Info | Where to Buy |
| --- | --- |
| | No federal source identified |
Legal Requirements

Lists federal requirements related to the purchase of this item, including applicable Federal Acquisition Regulation (FAR) requirements
Life Cycle Cost Savings
Life Cycle Costing (LCC) aims to quantify the financial impact of a product over its entire life cycle to assist consumers in making decisions that will save them money over the long term.
Wireless networking, which is relatively new to advanced lighting controls (ALC), enables advanced lighting control functionality without the expense of installing dedicated control wiring. Assessment by GSA's Proving Ground in two federal sites in Northern California showed showed 54% energy savings when fluorescent lamps with dimmable ballasts were retrofitted with wireless ALC, and 78% when the wireless ALC retrofit was coupled with new LED fixtures. The Green Proving Ground found that payback could occur within 3-6 years, depending on baseline conditions.
Guiding Principles
Contributes to meeting The Guiding Principles for Sustainable Federal Buildings
Additional Guidance
Wireless advanced lighting controls not only save money, but can enable increased flexibility in light levels to suit user preferences. The Green Proving Ground recommends that wireless advanced lighting controls be integrated with LED lighting during renovations. They should also be considered for retrofits, targeting facilities with minimal lighting controls, high lighting energy use (EUI > 3.25 kWh/ft2/yr) and utility rates > $.10 kWh.
Potential LEED Contributions
This product may contribute* toward points in multiple LEED v4 rating systems, including areas required for LEED v4 building certification. Primarily, the credits will apply in the Building Design and Construction (BD+C) and Building Operations and Maintenance (O+M) categories. This includes the specialty areas of: New Construction and Major Renovation, Existing Buildings, Core & Shell, Schools, Retail, Data Centers, Warehouse and Distribution Centers, Hospitality, and Healthcare. Specific credits are:
Energy & Atmosphere - Optimize Energy Performance
Indoor Environmental Quality - Interior Lighting
Sustainable Sites - Light Pollution Reduction
* It is important to note that no products, individually or collectively, can guarantee a specific number of points for LEED Category credit. Each credit will need to be matched to the product by a certified professional.