Flowable Fill
Last Updated: 09/30/19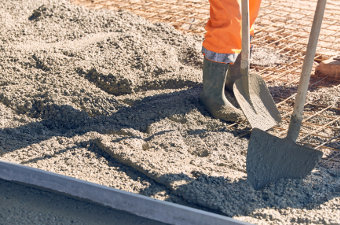 Flowable fill is commonly used as an economical fill or backfill in road construction. It is usually a mixture of coal fly ash, water, a coarse aggregate (such as sand) and portland cement. Flowable fill can take the place of concrete, compacted soils or sand commonly used to fill around pipes or void areas. Other applications include filling in bridge abutments, foundation subbases or abandoned man holes and wells. Flowable fill can help put significant quantities of coal fly ash and spent foundry sand, two types of recovered materials, back to good use.
Product Details
Federal agencies are required by statute to purchase products as designated or specified under this program.
Federal agencies are required to purchase sustainable products and services meeting EPA's Recommendations to the maximum extent practicable.
| Procurement Info | Where to Buy |
| --- | --- |
| | |
Legal Requirements

Lists federal requirements related to the purchase of this item, including applicable Federal Acquisition Regulation (FAR) requirements
Guiding Principles
Contributes to meeting The Guiding Principles for Sustainable Federal Buildings
Additional Guidance
Compliant products not listed in GSA Advantage! may be available for federal purchase under GSA Schedule 51 V SINs 105 001 & 105 002 by visiting approved hardware stores in person or purchasing through the product catalogs of approved vendors.
Potential LEED Contributions
This product may contribute* toward points in multiple LEED v4 rating systems, including areas required for LEED v4 building certification. Primarily, the credits will apply in the Building Design and Construction (BD+C) and Building Operations and Maintenance (O+M) categories. This includes the specialty areas of: New Construction and Major Renovation, Existing Buildings, Core & Shell, Schools, Retail, Data Centers, Warehouse and Distribution Centers, Hospitality, and Healthcare. Specific credits are:
Materials & Resources - Building Product Disclosure & Optimization

Sourcing of Raw Materials
Material Ingredients
* It is important to note that no products, individually or collectively, can guarantee a specific number of points for LEED Category credit. Each credit will need to be matched to the product by a certified professional.