Railroad Grade Crossing Surfaces
Last Updated: 09/19/17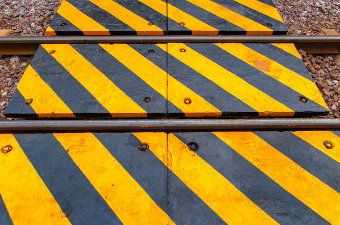 Railroad grade crossings are surfacing materials placed between railroad tracks, and between the track and the road at highway and street railroad crossings, to enhance automobile and pedestrian safety. Railroad grade crossings are made from recovered rubber, concrete containing coal fly ash, steel, or wood.
Product Details
Federal agencies are required by statute to purchase products as designated or specified under this program.
Federal agencies are required to purchase sustainable products and services meeting EPA's Recommendations to the maximum extent practicable.
| Product Type | Procurement Info | Where to Buy |
| --- | --- | --- |
| Concrete | (15-20% recovered coal fly ash) | |
| Plastic | (100% recovered plastic or plastic composite; including 85-95% postconsumer content) | |
| Rubber | (85-95% recovered tire rubber) | |
| Steel | (See EPA guidance at www.epa.gov/cpg) | |
| Wood | (90-97% recovered wood or wood composite; including 90-97% postconsumer content) | |
Legal Requirements

Lists federal requirements related to the purchase of this item, including applicable Federal Acquisition Regulation (FAR) requirements