Solar Photovoltaic
Last Updated: 02/11/22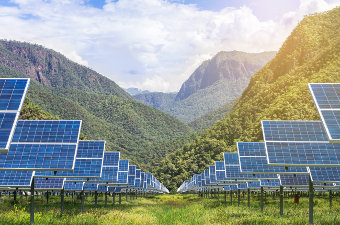 The direct conversion of sunlight into electricity by a semiconductor
Product Details
| Procurement Info | Where to Buy |
| --- | --- |
| Federal agencies must ensure that renewable energy accounts for at least 7.5% of total electricity consumption. | |
Legal Requirements

Lists federal requirements related to the purchase of this item, including applicable Federal Acquisition Regulation (FAR) requirements
Guiding Principles
Contributes to meeting The Guiding Principles for Sustainable Federal Buildings
Additional Guidance
The Federal Renewable Energy Resource Guide

provides basic information for Federal staff who are new to the concept of renewable energy and renewable energy certificates (RECs), and are seeking to better understand the options for using RECs to meet Federal renewable energy targets. It is intended to assist agencies in understanding the use of RECs to meet the statutory goals for renewable energy.
To ensure quality and safety in PV installations, view Procurement Specifications Templates for Onsite Solar Photovoltaic: For Use in Developing Federal Solicitations

. Using the template language and associated background information is intended to reduce the amount of effort required to prepare such documents, while improving the outcome of onsite renewable power systems—an attempt to save each agency from the effort of "reinventing the wheel."
Guiding Principle for High Performance and Sustainable Buildings #2 can apply when implementing renewable energy generation projects on agency property for agency use, when lifecycle cost effective.
Potential LEED Contributions
This product may contribute* toward points in multiple LEED v4 rating systems, including areas required for LEED v4 building certification. Credits are for the utilization of the source of energy, not necessarily requiring the operation of a production facility. Primarily, the credits will apply in the Building Design and Construction (BD+C) and Building Operations and Maintenance (O+M) categories. This includes the specialty areas of: New Construction and Major Renovation, Existing Buildings, Core & Shell, Schools, Retail, Data Centers, Warehouse and Distribution Centers, Hospitality, and Healthcare. Specific credits are:
Energy & Atmosphere

Optimize Energy Performance
Optimize Energy Production
* It is important to note that no products, individually or collectively, can guarantee a specific number of points for LEED Category credit. Each credit will need to be matched to the product by a certified professional.