Lighting Controls
Last Updated: 10/01/19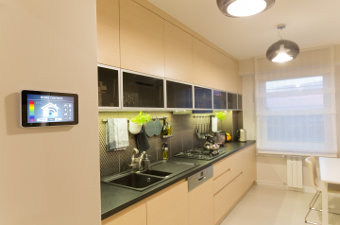 A lighting control system is an intelligent network based lighting control solution that incorporates communication between various system inputs and outputs related to lighting control with the use of one or more central computing devices.
Product Details
Federal agencies are required by statute to purchase products as designated or specified under this program.
Federal agencies are required to purchase sustainable products and services meeting EPA's Recommendations to the maximum extent practicable.
| Procurement Info | Where to Buy |
| --- | --- |
| | |
Legal Requirements

Lists federal requirements related to the purchase of this item, including applicable Federal Acquisition Regulation (FAR) requirements
Life Cycle Cost Savings
Life Cycle Costing (LCC) aims to quantify the financial impact of a product over its entire life cycle to assist consumers in making decisions that will save them money over the long term.
Lighting controls can save energy and reduce peak demand in offices and other facilities. Controls save money while providing user convenience and an improved lighting environment. For example, FEMP has estimated that installation of appropriate lighting controls could save a typical federal agency up to $120 in annual energy costs per 1000 square feet of office space.
There are several different kinds of controls. The choice of control type should be based on lighting usage patterns and the type of space served. More information about types of controls and additional cost savings examples are available on FEMP's product web page.
Guiding Principles
Contributes to meeting The Guiding Principles for Sustainable Federal Buildings
Additional Guidance
While no federal requirement applies, Energy Star provides purchasing guidance on selecting lighting controls.
Potential LEED Contributions
This product may contribute* toward points in multiple LEED v4 rating systems, including areas required for LEED v4 building certification. Primarily, the credits will apply in the Building Design and Construction (BD+C) and Building Operations and Maintenance (O+M) categories. This includes the specialty areas of: New Construction and Major Renovation, Existing Buildings, Core & Shell, Schools, Retail, Data Centers, Warehouse and Distribution Centers, Hospitality, and Healthcare. Specific credits are:
Energy & Atmosphere - Optimize Energy Performance
Indoor Environmental Quality - Interior Lighting
Sustainable Sites - Light Pollution Reduction
* It is important to note that no products, individually or collectively, can guarantee a specific number of points for LEED Category credit. Each credit will need to be matched to the product by a certified professional.
Related Workspaces

Head to the explore section of SFTool to view related workspaces